Ramping up e-waste awareness in Rwanda
By ITU News

Less than 20 per cent of e-waste – or discarded electrical and electronic devices – is collected from homes and institutions globally, according to the 2020 Global E-waste Monitor, a report from the Global E-waste Statistics Partnership.
Rwanda, with about 7,000 tonnes of e-waste generated annually, has set out to do far better – and to set new benchmarks for African countries and the world in the sustainable use of digital devices and technologies. The country of 13.5 million people is already, as CNN noted last year, among the continent's earlier adopters of e-waste legislation.
Keeping e-waste management efficient and sustainable depends on regular consultations among producers, recyclers, and government agencies. All these stakeholders must understand the evolving landscape, their precise role, and the need for ongoing systemic change.
But as the country moves closer to developing a circular economy for electronics, a large piece of the puzzle lies in the hands of electronics consumers.
Bringing consumers on board
Consumers typically determine the end-of-life channel for their used electronics – whether it's a government-registered drop-off point, informal waste collection, or simply storing at home in cupboards and drawers.
The Rwandan government recently mounted the #GreenRwanda campaign to spur e-waste "returns" by consumers to official collection points in Kigali and Musanze, managed by the country's largest e-waste recycler, Enviroserve Rwanda.

Enviroserve's state-of-the-art plant near Kigali, operating under a public-private-partnership with the Government of Rwanda, can process up to 10,000 tonnes of e-waste per year.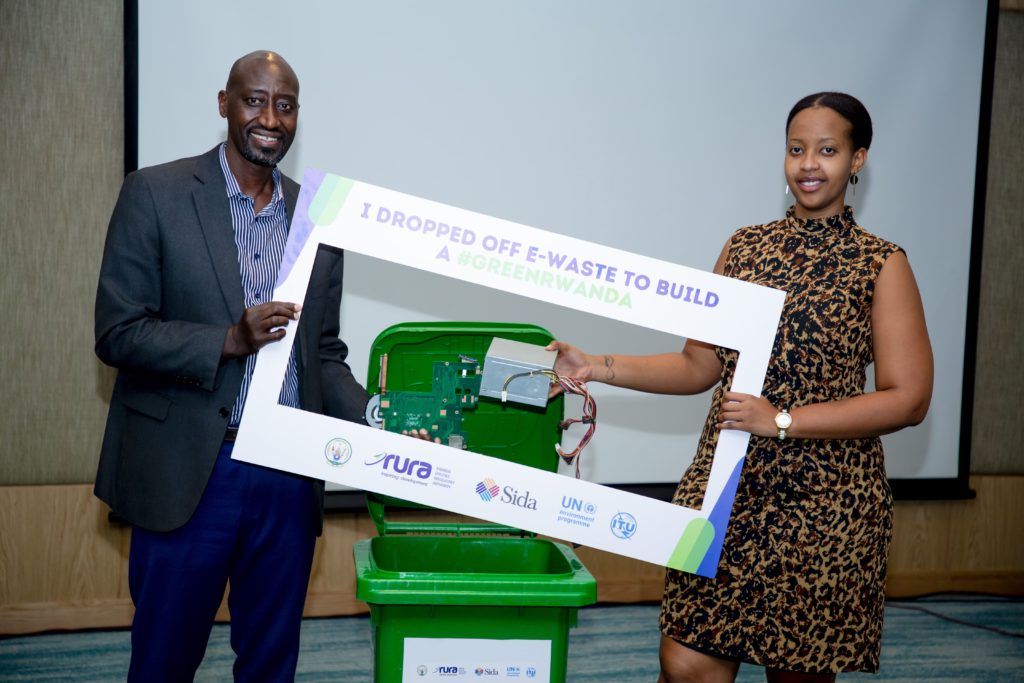 Along with educating and mobilizing the public, the campaign aims to create buy-in across the private and public sectors, highlighting shared responsibilities in moving towards a circular economy. It also aims to raise awareness about the dangers of improper device disposal, including environmental contamination and direct exposure to toxins.
Partnerships are key
The #GreenRwanda campaign is a result of close collaboration between the Rwanda Utilities Regulatory Authority (RURA), the International Telecommunication Union (ITU), and the United Nations Environment Programme (UNEP).
"Rwanda has demonstrated a strong will to advance proper e-waste handling, and to create a regulatory framework that prevents hazardous chemical substances from polluting our environment and impacting people's health," said Deo Muvunyi, RURA's acting director-general. "Together with our partners, we are confident that the campaign will bring about change in behaviour and understanding."
"ITU's work with awareness raising in Rwanda, part of ITU's larger national regulatory assistance in the region, highlights the importance of consumer participation through take-back and collection. Only when this large gap of e-waste collection is addressed, can e-waste management systems become truly circular," said Anne-Rachel Inne, Regional Director, ITU Regional Office for Africa.
ITU and UNEP are providing technical assistance to Botswana, Namibia, and The Gambia, as well as to Rwanda, to develop national strategies, policies, and regulations.
The two agencies' long-term collaboration also extends beyond Africa, with similar technical assistance programmes for the Dominican Republic and Uzbekistan.
By identifying stakeholders and building up local capacity, the project seeks to equip these countries to take care of their e-waste and embark on the ambitious transition towards a circular economy.
Join the conversation using the hashtag #GreenRwanda.