Press Release
International Telecommunication Union
For immediate release

Telephone:
+41 22 730 6039
Telefax:
+41 22 730 5933
E-mail:
pressinfo
'Global' Support for Information Society Targets
Cyberspace seen as a Shared Resource for the Global Public Good
Results Released on World Telecommunication Day
Geneva, 17 May 2004 — Targets set for improving access and connectivity to information and communication technologies (ICT) by 2015 at the first phase of the World Summit on the Information Society (WSIS) have received strong support in a global ITU survey.
The Summit approved a Declaration of Principles and Plan of Action that set forth a roadmap to bring the benefits of ICT to underserved economies. The Summit was organized by ITU under the patronage of UN Secretary-General Kofi Annan to ensure that social and economic development, which is increasingly driven by ICTs, will result in a more just, prosperous and equitable world.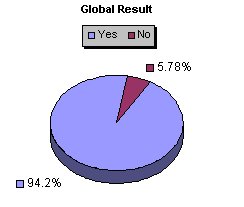 Figure 1

The survey shows overwhelming support for the belief that if the information society is to be one in which all citizens throughout the world can equally access and use information resources for sustainable economic and social development, that cyberspace should be declared a resource to be shared by all for the global public good. This opinion was held by more than 94% of survey respondents (see Figure 1). And these results were consistent across all the regions surveyed (see Figure 2).
ICTs: Leading the way to sustainable development
The survey was released on World Telecommunication Day, which commemorates the founding of the International Telecommunication Union in 1865. ITU, the oldest multilateral organization in the world, chose to celebrate its 139thanniversary with the theme "ICTs: Leading the way to sustainable development."
Mr Yoshio Utsumi, Secretary-General of ITU, notes that "ICTs alone may not feed the hungry, eradicate poverty or reduce child mortality, but they are an increasingly important catalyst that spurs economic growth and social equity. ICTs allow for more efficient agricultural production, diversity and distribution. They offer the possibility of delivering basic health services to those in dire need living in areas with little or no access to healthcare facilities. They can extend the reach of educators allowing them to bring knowledge to the most remote corners of our planet."
Mr Kofi Annan, United Nations Secretary-General adds that, "on World Telecommunication Day, let us resolve to do all we can to lead the way to a truly open, inclusive and prosperous telecommunications age." The entire text of Mr Annan and Mr Utsumi's messages can be found here.
Global Connectivity Targets Ranked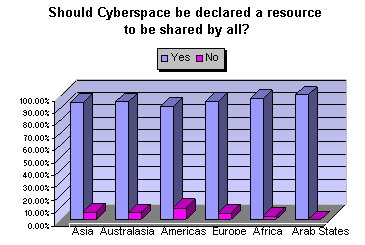 Figure 2

The 10 targets in the WSIS Plan of Action for improving access and connectivity to ICTs by 2015, which were endorsed by 175 Member States, were all rated as very important to achieving an information society that would benefit all of humanity. Again, these results were consistent regardless of region, gender, age or profession of those who responded to the survey.
The targets for 2015, as accepted in the WSIS Plan of Action, and their rankings are as follows:
Connecting universities, colleges, secondary schools and primary schools with ICTs


Connecting scientific and research centres with ICTs

Ensuring that more than half the world's inhabitants have access to ICTs within their reach

Connecting villages with ICTs and establishing community access points

Connecting all local and central government departments and establish websites and email addresses

Connecting health centres and hospitals with ICTs


64.89% of respondents view this as a very important goal. However, it was considered less so in Europe (57%), while in Africa and the Arab States it was significantly higher (74% and 78%). This may reflect a greater belief in those regions of the potential that ICTs hold for extending health services to people in remote or less developed areas.

Connecting public libraries, cultural centres, museums, post offices and archives with ICTs

Adapting all primary and secondary school curricula to meet the challenges of the Information Society, taking into account national circumstances

Encouraging the development of content and to put in place technical conditions in order to facilitate the presence and use of all world languages on the Internet

Ensuring that all of the world's population have access to television and radio services


47.80% ranked this as very important. The ranking of 'very important' was significantly lower in Australasia and Europe (30% and 43%) but much higher in Africa (70%). Again, this may reflect the current availability of the technology in these regions.
About the Survey
The survey was conducted online between 10 April and 10 May 2004. The 1250 respondents were from Africa (8.71%), Asia (9.8%), Australasia (3.02%), the Americas (22.07%), Europe (52.6%) and the Arab States (3.10%). The response rates in these regions reflect the telecommunication access indicators, as determined for WSIS in the World Telecommunication Development Report 2003 and are consistent with the "digital divide" that separates developed nations from less developed ones.
20.78% of respondents identified themselves as working for government, 8.56% for international organizations, 21.03% as civil society, 35.41% as business and 14.21% as media.