New UN initiative aims to step up AI's contribution to health
ITU News
A new United Nations initiative announced at the AI for Good Global Summit focuses on scaling up artificial intelligence (AI) solutions for health.
The Global Initiative on AI for Health is spearheaded by the International Telecommunication Union (ITU), the World Health Organization (WHO), and the World Intellectual Property Organization (WIPO).
The three UN specialized agencies have joined forces to ensure that AI fulfils its potential to support diagnosis and treatment, along with more efficient and inclusive healthcare services.
"AI is already playing a role in diagnosis and clinical care, drug development, disease surveillance, outbreak response, and health systems management," said WHO Director-General Dr Tedros Adhanom Ghebreyesus in his address to the ITU-led summit.
"The future of healthcare is digital, and we must do what we can to promote universal access to these innovations and prevent them from becoming another driver for inequity," he emphasized.
Dr Ghebreyesus posted a video of his remarks at the #AIforGood Summit on Twitter. Play the video.
Building on five years of momentum
The global initiative aims to develop technical standards and policy guidance, facilitate knowledge and data sharing, and support evidence-based decisions on the introduction of AI solutions for health.
The initiative builds on the momentum created by the ITU-WHO Focus Group on AI for Health established in 2018.
The focus group has studied AI solutions in 24 topic areas, ranging from neurology and radiology to dermatology and outbreak detection. Its open-code programme has enabled experts from around the world to collaborate on the development and benchmarking of innovative AI solutions for health.
The group has also delivered important guidance on AI governance in the health domain, including on ethics, regulatory considerations, data quality, and the clinical evaluation of AI solutions.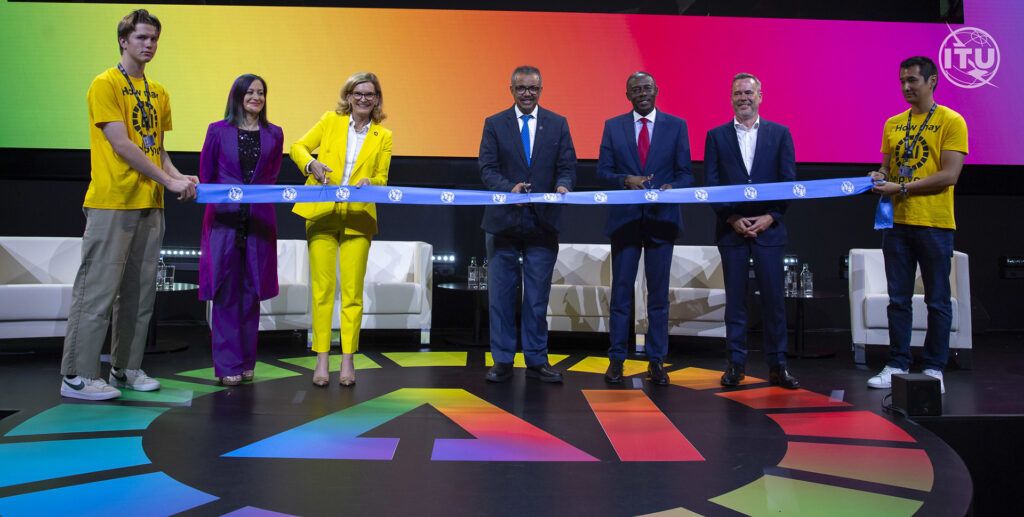 Earning the trust of healthcare professionals
The ongoing UN inter-agency cooperation recognizes a growing need to certify trustworthy AI health solutions.
The focus group has developed a benchmarking framework for audits and clinical evaluations of new AI solutions.
The open-code Proof of Concept for the benchmarking platform showcases the kinds of metrics that could help technology developers and health regulators to certify AI solutions, just as they do other medical equipment.
"Interventions at this year's Assemblies of the Member States of WIPO highlighted the intense and growing interest in AI and intellectual property, particularly its role in addressing global challenges," said WIPO Assistant Director General Edward Kwakwa.
"AI and intellectual property, including their data dimensions, are a key part of the discussion on AI for health and, more broadly, AI for sustainable development," he noted. "WIPO hosts a regular Conversation on AI and frontier technologies. Our next Conversation on September 21 to 22 will be on intellectual property and generative AI technologies."
Benefiting everyone, everywhere
The new initiative looks to expand on AI-for-health achievements and drive their global implementation.
Key objectives include:
Developing governance frameworks, technical standards, associated open-code tools, and guidelines for AI to contribute to universal health coverage.
Promoting cooperation on knowledge and data sharing, and developing collaborative funding mechanisms for AI solutions to reach underserved communities.
A scaling programme to assist low- and middle-income countries in adopting AI solutions for health, initially working with between 12 and 18 countries.
ITU's AI for Good platform brings 41 UN agencies together with a diverse array of innovators and industry partners, aligning AI, machine learning and robotics with the UN Sustainable Development Goals.
ITU Secretary-General Doreen Bogdan-Martin noted how cooperation on AI for health could help shape appropriate AI governance frameworks, ensuring technology works in the best interest of humanity.
"Alongside technical leaps in domain-specific fields like radiology, cardiology, and dermatology, our focus group has made huge strides in AI governance, from ethical data acquisition to accessibility and clinical evaluation," she said.
"As we transition from the focus group to the Global Initiative on AI for Health, we are very excited to see how we can take data standards further, to ensure AI continues expanding and evolving as a vital part of inclusive healthcare." To join the initiative, contact tsbfgai4h@itu.int.
Header image credit: Adobe Stock
Photo: ©ITU/D.Woldu