Restoring connectivity in Tonga through collaborative disaster response
by ITU News
A few weeks ago, the world shared unprecedented satellite images and video of an underwater volcanic eruption the day before near the island nation of Tonga.
Reported as "likely the biggest [eruption] recorded anywhere on the planet in more than 30 years", the 14 January event resulted in shockwaves recorded thousands of kilometres away, from New Zealand to Japan, and as far as Peru and the west coast of the United States.
While the satellite images circulated the next day, it took time for the world to see and understand the extent of the damage in Tonga itself. Among the eruption's devastating effects, the main undersea cable connecting the island nation to the rest of the world broke in at least two places. In Tonga's case, this has been the only cable connecting the country to the rest of the world.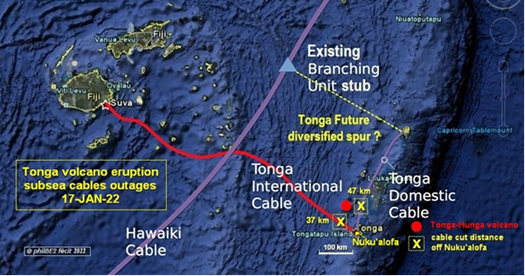 Mobilizing immediate response
The International Telecommunication Union (ITU) received its first request to assist the country via its regional office for Asia and the Pacific, through a satellite phone call from Tonga's Ministry of Meteorology, Energy, Information, Disaster Management, Environment, Climate Change and Communications (MEIDECC).
In cooperation with the United Nations Resident Coordinator Office and Emergency Telecommunications Cluster, ITU worked with MEIDECC to support Tonga's government with emergency communications capabilities.
"ITU, Intelsat and Spark NZ have provided temporary satellite bandwidth and equipment, allowing essential services to resume operation," said Paula Ma'u, chief executive at MEIDECC.
"The Tonga Meteorological Service now has a consistent connection, retrieving satellite data from international counterparts that allows them to monitor the volcano as well as other meteorological activities. Our team will continue connecting terminals by hand to gain more bandwidth for government services such as the Geology Department and the National Emergency Management Office, as well as to reach the outer islands."
Response measures had to consider the challenges of travel due to the COVID-19 pandemic, which had yet to reach Tonga at that point. Building on recent experience in Vanuatu, in response to Cyclone Harold in 2020, the partners devised a multi-pronged strategy:
This included:
Repurposing existing equipment in Tonga from an earlier ITU project to enhance emergency telecommunication capacity in the Pacific
Coordinating with satellite operators to provide bandwidth for disaster response
Providing satellite phones to MEIDECC
Collaborating with the UN-facilitated Emergency Telecommunications Cluster to provide regular updates to the Disaster Connectivity Map, an online mapping tool that monitors and identifies connectivity gaps and outages after disasters strike
Restoring connectivity
Reconnecting Tonga proved a formidable challenge, due to the need for a contactless disaster response approach to reduce risk of COVID-19 transmission.
But thanks to MEIDECC's collaboration with satellite operators Intelsat and Spark, and technical support from local operator Wantok, on-the-ground response teams promptly located a Ku-band (12-18 gigahertz) terminal at the weather service office at Tonga's Fua'amotu International Airport. The terminal was then realigned to connect with Intelsat's Horizon 3E satellite, which could finally beam much-needed Internet access to the ash-covered archipelago.
"Restoring communications to Tonga is vital for monitoring the volcano and critical to support humanitarian aid organizations as they provide much needed medical assistance and emergency supplies to Tongan citizens," said Intelsat CEO Stephen Spengler.
"Tonga still has challenges ahead. We will continue to work closely with ITU, MEIDECC and Spark NZ to support the community as it recovers from the aftermath of this devastation."
Tonga would also receive Iridium satellite phones with free connectivity, and free SIM cards, shipped in through Brisbane with the help of Australia's Department of Foreign Affairs and Trade.
"Iridium phones and push-to-talk (PTT) handsets are trusted by first responders and emergency management personnel around the world, and in the days following the eruption, we saw a tenfold increase in devices deployed to Tonga to assist with response efforts," said Tatiana Lawrence, International and Regulatory Vice President at Iridium.
"We're proud to provide additional Iridium connectivity to help ensure response efforts stay highly coordinated and aid continues to be delivered as quickly as possible."
Takeaways from Tonga assistance
As connectivity slowly returns to Tonga, the critical role of digital technologies in modern societies – and especially that of satellite communication – cannot be overstated.
The response to start restoring Tonga's links to the outside world has involved coordination among different organizations at all levels, from national governments to local operators, international satellite operators and UN organizations.
"Only through cooperation and collaboration can we continue to work towards ensuring resilient connectivity for all," said Atsuko Okuda, ITU Regional Director for Asia and the Pacific.
Header image: Satellite imagery shows the Hunga Tonga-Hunga Ha'apai volcano on January 6, 2022, before the eruption on January 14th , 2022 in Hunga Tonga-Hunga Ha'apai Islands, Tonga. Photo by Maxar via Getty Images