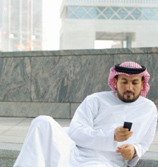 What a difference a year makes! Most people in late 2007 could have never anticipated what was to happen by end of 2008 with a credit crunch, disappearance of several major financial global icons and a deep recession in the world's biggest economic areas of the US, UK, the Euro area and Japan.
In this era of tight credit lines, cash is once again king and leverage has become the nasty "L" word. Even in areas where economic growth is still underway (including the Arab world), banks are getting much more cautious and financial markets took a major beating thus raising capital has become much more difficult.
Where does this gloomy global picture leave Arab telecom operators? Some facts first:
Over 318 million people live in the Arab World, with GDP per capita widely ranging from over US$ 47,000 in Qatar to US$ 880 in Mauritania.

Arab telecom markets remain growth markets: With the exception of relatively stagnant fixed lines markets, Arab cellular and broadband markets continue to have very healthy growth. With over 194 million cellular lines by mid 2008, the combined cellular penetration rate for the 19 Arab countries covered by Arab Advisors Group exceeded 61% up from 56% by end of 2007. Arab operators added 18 million new cellular lines in the first six months of 2008 a growth rate of 10%.

The average cellular monthly ARPU for Arab mobile operators in 2007 was US$ 23.38 with a median of US$ 18.02. The Gulf operators; Zain Kuwait, Qtel, Wataniya Kuwait, Oman Mobile, Zain Bahrain and AlJawal have higher cellular monthly ARPU when compared regionally. Zain Kuwait had the highest monthly ARPU of US$ 69.3 in 2007, followed by Qtel with an ARPU of US$ 61.2.

Broadband rates and margins remain very healthy in the region. For example, the average monthly rate for a 512 kbps ADSL connection in the Arab World is US$ 60.7 with a median of US$ 45.
The combination of growth and healthy margins results in healthy cash flow levels and profitability for Arab operators. The numbers say it all: of 25 country operators that report financial results, six had EBITDA margins of more than 50%, and thirteen had an EBITDA margin between 30% and 50%. Only one had a negative EBITDA with the rest having EBITDA margins of more than 20%. Of the nineteen that disclosed net profit figures, net profit margin was more than 20% for eight, more than 10% for seven and negative for only three newly launched operators.
The story is the same for the regional telecom groups. Twelve telecom groups operate in multiple countries in the region. By mid-2008, all of them had EBIDTA margins of more than 37%: Three had an EBITDA margin of more than 50%, eight more than 40% and one at 37%. All these groups were very profitable with net profit margin coming at more than 30% for five groups, and more than 10% for the remaining seven groups.
There remains a caveat: while cash and profit generation is excellent in virtually all Arab telecom markets, the shareholders of highly leveraged operators may face their own liquidity problems. This could occur as cash generation may not be enough to service the massive debts acquired to fuel growth by some of these regional operators, especially if they had planned on future rights issues and future loans to deal with their leverage. After all, the region is not isolated from the global economy and a global recession has hammered oil prices which would spill over into lower economic growth and result in subdued telecom markets growth. Still, if there will be any winners from this global crises, some Arab telecom operators would be amongst them.