Introduction
One of the goals set by the World Summit on the Information Society (WSIS), namely that "more than half the world's inhabitants have access to ICTs within their reach" by 2015, was probably met already in 2008 as a result of the rapid expansion of mobile telephony. The number of mobile phones worldwide is now estimated to be eight times higher than that of fixed lines 3. Moreover, during the past few years, the digital divide has been shrinking in many respects, possibly with the exception of broadband connections.
Rapid growth in mobile phone and Internet use is placing increasing demands on the underlying telecom infrastructure. Private investment, often foreign, has played an important role in financing telecom infrastructure projects. Against this background, this brief considers possible implications of the financial crisis on foreign direct investment into telecommunications, especially in developing countries. As we have only seen the beginning of the repercussions of the deepest global economic crisis since the Great Depression, uncertainties are considerable and conclusions tentative.
ICT infrastructure investments
Foreign direct investment (FDI) has played a significant role in the massive infrastructure build-out that has taken place in telecommunications during the past decade. Practically every developing country has involved Trans-National Corporations (TNCs) in the development of their telecommunications sector. UNCTAD analysis of data from the World Bank's database on Private Participation in Infrastructure projects suggest that foreign companies invested more than $100 billion in telecom projects in developing countries over the period 1996-2006 4. The technical know-how and management skills of TNCs have also been important contributions.
Compared with other infrastructure investments in developing countries, FDI plays a very important role in the case of telecommunications 5. Of all investment commitments with private-sector participation during the 1996-2006 period, privatization and greenfield investments by TNCs accounted for as much as 83% of the number of projects (with concessions and management or lease contracts making up the rest). Privatization projects were mainly related to fixed-line telephony (and especially in the Latin America and Caribbean (LAC) region) while most greenfield projects were associated with mobile telephony.
Reliance of foreign investment has been particularly high in the LAC region and in Africa. In these two regions, foreign companies accounted for more than 40% of all investment commitments by private and public investors during the period 1996-2006; in developing Asia, the corresponding share was below 20%.
A relatively small group of TNCs account for the foreign investments (table 1), but the geographical composition of the investors varies considerably by host region. For example, in Latin America, TNCs have come predominantly from Spain, Italy and Mexico; in Africa TNCs from France, West Asia and Africa have dominated; and in Asia most of the top investors have been of Asian origin. Thus, in both Africa and Asia, South-South investments have been significant.
______________________________
3 See e.g. www.unctad.org/en/docs/a63d72_en.pdf.
4 UNCTAD (2008) World Investment Report 2008: Transnational Corporations and the Infrastructure Challenge (New York and Geneva: United Nations), p. 105.
Implications of the crisis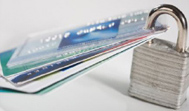 Assessing the precise impact of the economic crisis on the further roll-out of new, and the upgrading of existing telecommunications infrastructure in developing countries is not easy. When the dot-com bubble burst in 2000-2001, it resulted in a dramatic decline in global telecom-related FDI. However, this was mainly the result of the collapse of cross-border merger and acquisitions (M&As) involving companies in developed countries 6. FDI flows to developing countries were much less affected. In fact, in both Africa and developing Asia, foreign investment in telecommunications actually increased in the period 2001-2006 compared with 1996-2000.
Today, some companies are likely to face greater difficulties in raising the necessary funds to finance their overseas investments. If credit remains tight, telecom operators, especially those with high debts, may have to adjust to a situation with tighter credit conditions and reduce their capital investments. Some equipment-makers have already flagged various concerns:
On 14 January 2009, the board of directors of Nortel Networks Corp. (Canada) voted in favour of filing for bankruptcy. 7

Qualcomm (United States) in October 2008 predicted lower growth ahead "as a result of the credit crisis and the economic uncertainty". 8

Alcatel-Lucent (France) in October 2008 announced that it had been badly affected by the slowdown, notably in developed markets 9. The company has forecast mobile and fixed phone equipment market and relevant telecoms service markets to shrink by 8-12% in 2009 10. By comparison, Nokia-Siemens (Finland-Germany) believes the market in 2009 will shrink by at least 5% 11.
The fall in equipment output may, among other things, indicate declining demand among operators for new equipment. Sluggish demand may lead to a drop in the number of new telecom projects in 2009. The decline is mostly due to tighter financing - venture capitalists as well as lending institutions are more cautious about engaging in technology projects, with potential negative effects on FDI in telecom. As in the early years of this decade, a shortage of lending will furthermore make it more difficult to finance large M&As. For similar reasons, planned privatization plans may be postponed as a result of the crisis.
At the same time, the net effect for developing countries is difficult to predict. Developing countries represent a key target for future ICT growth, and many telecom operators in these economies may be able to sustain healthy revenue streams despite the credit crunch. The uncertainty is reflected in a comment by the CEO of Ericsson, the world's largest telecommunications equipment maker, when the company launched its interim results for the third quarter of 2008: 12
"Our business in the quarter has not been impacted by the financial turmoil. Our customers are generally financially strong. In addition, networks are loaded and traffic shows strong increase. In the present financial turmoil, it is however hard to predict how operators will act and to what extent consumer telecom spending will be affected."
Companies with broad exposure to developed-country markets are more likely to be negatively affected by the credit crunch. Thus, it is possible that we will see an even larger role for South-South investment in the ICT sector. TNCs that are backed financially by home-country governments with large current account surpluses (such as in the Middle East and China), may be better equipped to seize investment opportunities in the next few years. According to media reports, the two main Chinese equipment suppliers - Huawei and ZTE - have also cited their lower cost structure as an advantage in view of the financial crisis, which will put greater pressure on operators to find lower cost solutions. 13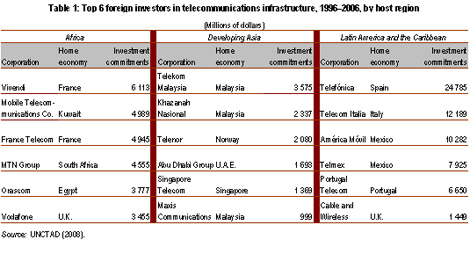 In Africa (see Table 1), Mobile Telecommunications Company (with the Zain brand), MTN Group and Orascom were among the top foreign investors in telecommunications during 1996-2006. These companies may find themselves in a privileged position to further strengthen their positions in the African wireless market. The MTN Group (South Africa) has indicated that the African telecoms market may not be too negatively affected by the global crisis. According to media reports, the company's CEO has suggested that "mobile spending remained 'resilient' in many of MTN's markets and that mobile firms in developing nations may not take a big hit from a global slowdown because wireless communications are viewed as an essential service not a luxury" 14. Moreover, Zain (Kuwait) recently raised $4.5 billion from its owners and is well placed to invest in smaller companies that are struggling as credit is in short supply.
______________________________
6 For example, the largest cross-border M&A deal ever recorded, Vodafone's (UK) takeover of Mannesmann (Germany) in 2000, was valued at about $200 billion.
7 See e.g. networkworld.com/community/node/37246
8 See "Qualcomm hit by the slowdown", CNN Money, 6 November 2008.
9 See "UPDATE 1-Alcatel-Lucent in strategy review, slowdown spreads", Reuters, 30 October 2008.
10 See e.g. chinastakes.com/story.aspx?id=951
12 See ericsson.com/ericsson/investors/financial_reports/2008/9month08-en.pdf.
13 See e.g. chinastakes.com/story.aspx?id=951.
14 See "Credit crunch to spawn African telecom deals", Reuters, 5 December 2008 (ioltechnology.co.za/article_page.php?iSectionId=2884&iArticleId=4746151).
Conclusions
These are early days of the crisis, and any prediction as to how it will affect future investment plans is fraught with uncertainty. Nonetheless, some preliminary observations can be made concerning the likely impact on FDI in telecommunications. Other things equal,
M&As and privatizations are likely to be more difficult to pull off than greenfield investments;

The scope for expanding the use of mobile phones in many developing countries is likely to remain a good reason for foreign companies to invest there;

Companies that are less exposed to developed countries - the most negatively affected by the financial crisis - are likely to be in relatively weak position to invest abroad in the next few years. This may lead to an even stronger role of South-South investment into telecommunications;

Investors that are well endowed with cash may find interesting opportunities as a result of the crisis; but ...

The picture also varies considerably by country and by company.