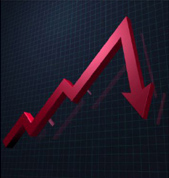 Most economic experts agree that the world faced a severe financial crisis in the second half of 2008 28. There is less consensus on the degree to which the crisis will affect different countries and economic sectors. This brief looks at the possible impact of a crisis on the telecommunications sector, specifically mobile communications in developing countries.
Demand-side
Towards the end of 2008, the economic crisis had yet to impact mobile growth in some of the largest developing country markets. According to the latest available data at the time this was written, growth continues in the two largest developing country mobile markets China and India. The world's biggest mobile operator, China Mobile, added 74 million new mobile subscribers in the year through October 2008 29. In comparison, it "only" added 55 million between January and October 2007. In India, which surpassed the United States in 2008 to emerge as the world's second largest mobile market, 10.4 million mobile subscribers were added in October 2008 compared to 10.1 million in September 2008 30. In Nigeria, the number of new mobile subscribers has increased in each quarter through September 2008 31 while Brazil added four million new mobile subscribers in October 2008, more than twice as many than in October 2007 32.
Some believe that developing countries will be fairly immune to the crisis pointing to mobile growth despite economic problems: "Pakistan is experiencing significant macroeconomic problems, yet the mobile market steams ahead…Many African countries have experienced strong mobile growth despite economic problems. For India, I do not see any noticeable slowdown in subscriber growth until 2012. The marginal subscriber in India today is going to be a pre-paid user and not overly concerned about a credit crunch or an economic slowdown...."
In some respects, the economic crisis could not have come at a better time for developing countries in respect to mobile communications. Rapid growth has dramatically increased the penetration of mobile phones, even in the poorest countries. Towards the end of 2008, almost one out of every two persons in developing countries already had a mobile phone 33. Less than a dozen developing nations have a mobile penetration of less than ten (compared to some two dozen where penetration is already over 100). In most of the developing countries with a mobile penetration less than ten, restrictive government telecommunications policies cause more harm than an economic crisis would. The challenge in an economic crisis will be as much about sustaining those with mobile phones as trying to ensure that infrastructure roll-out continues to pick up new subscribers.
The economic crisis could affect those with mobile phones in developing countries if people lose their jobs or see their incomes reduced. However, once somebody gets a mobile phone, it is difficult to give up. Mobiles have pretty much replaced fixed lines for voice communications in many developing nations. They are also increasingly used for other purposes that make them even more desirable. A recent ITU report on the Asia-Pacific region notes: "...in most of the region's low and lower-middle-income economies, mobile phones have become a substitute for the shortage of fixed lines and fixed broadband access. Mobile phones are used extensively for 2G applications, especially SMS, but also other data applications, such as m-commerce and m-banking..." 34 It is likely that other communications services would be dropped before mobile in the midst of economic crisis. A survey in Latin America found that most users would give up fixed telephone, Internet and subscription telephone service before mobile concluding "The mobile telephone does not appear to be considered a luxury item by users; on the contrary, it is considered a necessity." 35
One factor that facilitates the retention of mobile service is prepaid. Because of the ability to control spending with prepaid, mobile ownership should be relatively unaffected by the crisis. While users may make less calls or send fewer text messages, with prepaid they can still keep their phone to receive calls and to make essential ones. A crisis would also probably drive subscription-based users to prepaid: "...the weakening economy is causing people who would have chosen postpaid contracts before to instead opt for prepaid services" 36. Prepaid recharge terms need to be made lenient, so that users can keep their mobile number in the event of a severe financial crisis.
Supply side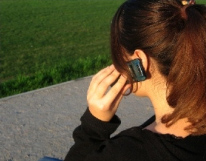 So far, one of main consequences of the economic crisis has been a tightening of credit with negative consequences for capital expenditure and investment in telecommunications networks. The impact thus far appears to be primarily in the developed countries that triggered the crisis. This could spread to developing countries, especially those which have a high reliance on foreign investment from developed nations for financing telecommunications roll-out. Domestic firms controlled by European or North American carriers would likely feel the impact the most. A reduction of investment from developed countries can be mitigated by increased "South-South" investment, domestic investment, multilateral assistance or government support.
One fact that could mitigate investment concerns are that developing countries are home to the so-called "next billion mobile subscribers." 37 It is unlikely that manufacturers and strategic investors will want to exacerbate the economic crisis by cutting investment in a market with such strong growth potential. Given the still large untapped demand, one could expect that manufacturers would ease financing terms and that global economic institutions will work to ensure a continuing flow of funds to developing countries. The mobile market is not the sub-prime mortgage market. Growth is high and profit is strong so it would be illogical to siphon off investment.
Mobile and the economy
Mobile communications drives economic growth in developing countries. Over a dozen studies have documented the impact of mobile networks on the economy 38. From the creation of both direct and indirect jobs to facilitating business, mobile plays a unique role in developing countries, particularly given the lack of other forms of electronic communications. Given the growing impact of mobile communications for economic development, it can be a sector to help countries overcome the impact of the economic crisis in other sectors. It makes economic sense to support and sustain the mobile sector.
Conclusions
Given these conditions, the mobile sector in developing countries has a good chance of weathering the economic crisis. Governments can facilitate this by enhancing competition, minimizing taxes and other fees on mobile operators and making wireless spectrum readily available. Another supportive policy would be to extend the length of prepaid terms so that users have longer periods of time without making a call before their number is deactivated. The real concern is that in a time of panic, the risk associated with infrastructure investment in developing countries is overestimated and credit dries up. It would be plain stupid to siphon investment funds off since mobile is a healthy and growing sector that can help to sustain economic growth by its impact on other sectors.