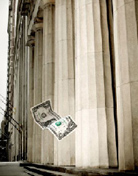 ICT investment has proved an effective stimulus to broader economic growth. Consider the mobile industry's ability to drive economic growth in times of economic uncertainty - research proves that the mobile industry has a positive impact driving GDP and economic growth. The industry occupies a unique place at the crossroads of high-tech investment, productivity improvement and social policy in terms of the digital divide. Mobile operators are looking to invest many hundreds of billions of Euros in next-generation mobile technologies, which could help reverse the economic slowdown.
The GSMA considers that the industry also faces significant challenges to its ability to invest:
The financial crisis has boosted the cost of capital for the mobile industry, which is one of the more capital-intensive industries. With the prospect of recession, revenue assumptions will be downgraded, and marginal investments may be postponed.

Regulation in some regions is creating an additional and significant burden for the industry.

Government agendas are now dominated by the calls for help from distressed industries. Mobile has a clear opportunity to play a major role in supporting accelerated growth, though a partnership between private investment and supportive regulation and industrial policy. Governments need to balance their efforts in supporting ailing industries with encouraging "solution" industries.
With these challenges as a back-drop, the mobile industry stands ready to invest in enabling infrastructure that can help drive economic growth in times of crisis. To ensure this investment is realized, the GSMA considers that governments can:
Release harmonized digital dividend spectrum in a way that encourages infrastructure investment rather than seeks to generate windfall gains;

Cut ICT specific taxes and remove duty barriers;

Delay further price regulation in mobile, particularly retail intervention that diverts revenue away from the industry and negatively impacts business plans;

Remove spectrum bottlenecks and make available UHF spectrum and refarming of 2G for broadband as soon as possible;

Release USO funds back to the ICT sector, where they exist;

Allow for commercial deals for infrastructure sharing; and

Streamline government interfaces with mobile investors and appoint government champions of industry to coordinate infrastructure, power, licensing, planning, etc.