GSR12 Best Practice Guidelines - 3rd draft now available!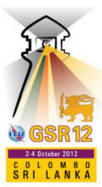 The GSR12 Consultation focuses on identifying regulatory approaches that policy makers and regulators can take to foster access to digital opportunities through cloud services. You are, therefore, invited to identify innovative or tried-and-true policy and regulatory approaches in the following areas:
- Translational issues related to breeding efficient, inclusive and future-proof ICT networks, services and applications, notably in the areas of IP interconnection, Voice over IP, and net neutrality;
- Data protection, data sovereignty, privacy issues (including child online protection) and responsibilities of the various stakeholders;
- Public-Private Partnerships (PPP): strategies for expanding cloud services.
The final Best Practice Guidelines are now available.
Contributions by regulators and policy makers were coordinated by Mr Lalith Weeratunga, Chairman of the Telecommunications Regulatory Commission of Sri Lanka (TRCSL).
The Best Practice Guidelines were adopted during GSR12 by the regulators and policy makers participating in the event.