Philippines Case Study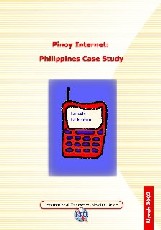 The Internet market in the Philippines is very distinct. Although there are a large number of Internet Service Providers (ISPs) most of them are little more than resellers of bandwidth. Only those ISPs that are telcos with facilities-based licenses are allowed to directly provide their own national or international connectivity. One anomaly of the Philippine market is that there is wide opinion about the number of Internet subscribers and users with estimates of the number of users ranging from 500'000 to two million.
There is much interest on the part of the government in reducing the digital divide and enhancing access to ICTs. Indeed there is no shortage of programs and ideas and the President herself is said to be an avid ICT user. The problem is translating this intent into concrete action. On the one hand, low incomes inhibit access to ICT. On the other hand, the fairly open and private Philippine telecom market has meant that the government has had little leverage in forcing operators to install ICT infrastructure where it is badly needed.
Another distinctly Philippine phenomenon is the widespread use of mobile Short Messaging Service (SMS). "Texting" has developed into a Philippine cultural trait with one of the highest SMS usage rates in the world. This has interesting implications as a precursor to mobile Internet access.
An ITU mission, carried out in Manila from October 1-5, 2001, included Michael Minges, Esperanza Magpantay and Tim Kelly. The National Telecommunication Commission (NTC), the telecommunication regulator, coordinated the mission.