Cambodia Case Study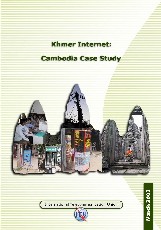 A Least Developed Country, the Kingdom of Cambodia faces a number of barriers that impede the development of the Internet. The country has the dubious distinction of having the lowest Internet penetration in South East Asia as well as the region's highest prices.
International development initiatives have played a great role in launching, providing and nurturing the Internet and several grass-roots projects have helped to introduce Cambodians to cyberspace. The Internet market has been open to new operators since July 2001 and cellular operator MobilTel, has launched a broadband wireless service. The fact that Cambodia has very few fixed lines (4000 lines for a population of some 9.3 million), has largely contributed to the country's mobile success. Cambodia was the first country in the world where mobile telephone subscribers passed fixed ones (way back in 1993) and it began the millennium with more than four out of five telephone subscribers using a wireless phone, the highest ratio in the world. The competitive mobile market has further been boosted by prepaid cards, which make up 90 per cent of the market.
A mission to Cambodia was carried out from July 8-12, 2001, involving Michael Minges and Vanessa Gray. The mission and interviews were coordinated with the Ministry of Posts and Telecommunications of Cambodia (MPTC).