Laos Case Study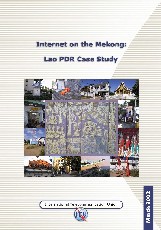 Lao PDR was one of the last South East Asian nations to adopt the Internet and the country faces great barriers in Internet access and use. From a regulatory point of view, the country lacks an overall ICT Master Plan (as well as a separate industry regulator). Although the government created the Lao Internet Committee in 1997, this agency has not been able to establish a clear set of rules that apply to the Internet market. The government recently passed a new telecom law that calls for Internet responsibilities to be passed to the Ministry of Communications, Transport, Posts and Construction (MCTPC). Other barriers to ICT development include low incomes (Lao is a Least Developed Country), relatively poor rates of literacy and educational attainment, lack of infrastructure (especially outside urban areas) and a shortage of Laotian content. As a result, the level of Internet access is low. The two ISPs have a total of around 2'900 subscribers. There are no surveys regarding the number of Internet users but it is estimated that there are some 9'000. This results in an Internet penetration of 0.17 per cent.
Despite these barriers, there is a growing interest in ICT and the government increasingly recognizes the potential of the Internet for development. The Association of South East Nations (ASEAN), which Lao joined in 1997, has also been influential in encouraging the government to enhance Internet access in order to strengthen connectivity for several Pan-ASEAN Internet projects. Most ICT-related projects and initiatives within the country are spearheaded by the development community.
A mission to Lao PDR, including Michael Minges and Vanessa Gray, was carried out from November 5-8, 2001. The national counterpart was the MCTPC.