Mauritius Case Study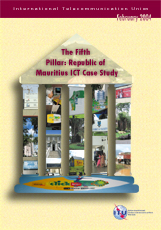 Mauritius, a Small Island Developing State (SIDS), with a multi-ethnic population of some 1.2 million, has exciting plans for becoming an information society or, in its own words, a Cyber Island.
To overcome barriers typically affecting SIDS – including isolation and small markets – Mauritius recently connected to the Southern Africa Far East (SAFE) fibre optic submarine cable, which significantly enhances its connectivity. In addition Mauritius is leveraging its linguistic skills (both English and French are widely spoken) and geographical location to promote itself as a base for ICT companies to expand into francophone markets, particularly in Africa. In the ITU's Digital Access Index, which ranks 178 countries according to their ability to access ICTs, Mauritius ranks 62nd, second in Africa (after Seychelles).
The government has three main projects for turning Mauritius into an information society. These include the development of e-government with a target of 2005 for providing all government services online. A second project is e-education with the near term goal of considerably expanding the tertiary sector and providing computer labs in all of the nation's primary schools. Secondary schools are already online. The third and perhaps most ambitious project is the development of a cyber city being carved out of a sugar cane plantation in the center of the island and which will house national and international ICT companies and training facilities. Government efforts to overcome barriers, take advantage of its strengths and develop national strategies, make Mauritius an interesting case study for other developing countries.
A mission to Mauritius was carried out from April 7-11, 2003, involving Michael Minges, Vanessa Gray, and Marcelino Tayob. The mission and interviews were coordinated by the National Computer Board (NCB) of the Ministry of Information Technology and Telecommunications (MIT&T).