Korea (Rep.) Case Study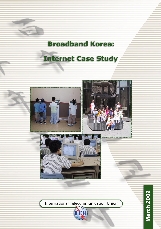 The Republic of Korea has the world's highest broadband Internet access penetration. At 51.1 percent it also has the highest Internet penetration among the Asian economies. These are astounding achievements given that fact that Korea is not among the world's most developed nations, on the basis of GDP per capita. It is classified as an upper-middle-income economy; a group that includes nations such as Argentina, Botswana, Brazil, Turkey, South Africa and Venezuela. In addition, Korea has its own language and character set and few Koreans speak English well. These factors would tend to work against a high level of Internet access. Instead, there are other factors besides wealth that have contributed to its success. These include:
Government support-The state has assisted to boost Internet access as well foster broadband Internet access. There are a variety of programs to encourage Internet access such as wiring all primary and secondary schools with free Internet connections and providing training to ten million people, including housewives, soldiers and rural dwellers. The government has also offered low-interest loans to companies providing broadband access. A significant point is that the MIC is allowed to keep all income accruing from its regulatory activities (e.g., license fees, etc.) for funding government programs in the sector.
Urban geography-Thought 20 percent of the Korean population resides in rural areas, city dwellers tend to live closely clustered in apartment complexes which simplifies the task of providing broadband connections.
Competition-Korea's broadband growth coincided with the introduction of competition in the local loop in April 1999. The new competitor focused on providing DSL access in an effort to distinguish itself from the incumbent. In addition, the availability of cable television offered another outlet for providing broadband access. The competition among operators and technologies has resulted in among the lowest broadband access prices in the world.
Games-Electronic games are very popular with young Koreans and the development of online games, played initially in Internet cafes ("PC Bangs"), have helped stimulate market demand.
These and other factors make the Korean story an fascinating case study. Its accomplishments and its way of getting there also offer a number of useful lessons to other nations.
A mission to South Korea was carried out from 23-30 May 2002, involving Michael Minges, Tim Kelly, and Vanessa Gray. The mission and interviews were coordinated with the Ministry of Information and Communications (MIC).