ICTs for Preservation, Revitalization and Promotion of Indigenous Languages: Leaving no one behind, no one outside
---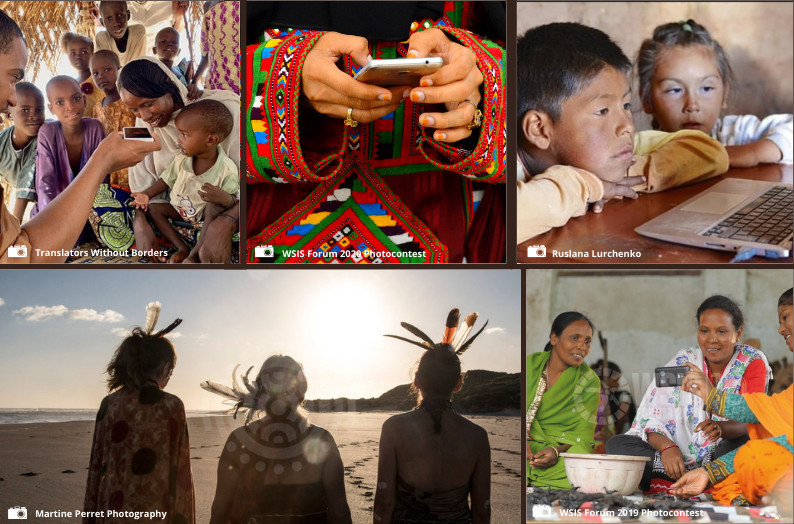 People's ability and freedom to use their chosen language is essential for human dignity, peaceful co-existance, reciprocal action, and for general wellbeing and sustainable development of society at large.
Languages, with their complex implications for communication, identity, cultural diversity, spirituality, communication, social and political integration, education and development, are of crucial importance for people and the planet. People not only embed in languages their history, traditions, memory, Indigenous knowledge, unique modes of thinking, meaning and expression, but they also construct their future through them.
Many languages are today in danger of falling into disuse. A majority of these are Indigenous languages. The gradual disappearance of languages, particularly Indigenous ones, is connected, in practice to the structural discrimination to which they have been subjected, to the vulnerable situation of their users (speakers and signers), whose actual use of their own languages in everyday life depends on the daily reality of their socio-cultural, economic, political, technological, environmental and demographic situations.
In the context of the International Decade of Indigenous Languages (2022-2032) proclaimed by the United Nations General Assembly on 18 December 2019 as an immediate follow up to the 2019 International Year of Indigenous Languages, it is important to ensure actions leading to the digital empowerment of Indigenous languages users, greater access to language technology and enhanced capacities of Indigenous people to create digital content, provide services and tools in their languages.
---
---
Half of the world's 8,324 documented languages or signed languages are currently endangered, with 1,500 particularly at risk
---
Only 150 to 200 languages are used on the cyberspace
---
94 countries were involved in the international year of Indigenous Languages (2019)
---
---
What is the Hackathon About?
---
As part of the World Summit on the Information Society (WSIS) Forum 2022 Special Track on ITCs and Indigenous Languages, WSIS, UNESCO, in collaboration with other stakeholders are co-organizing an online hackathon inviting all interested stakeholders to ideate and create ICT solutions that contribute to the intergenerational transmission, preservation, revitalization, and promotion of Indigenous languages.
The final winners will be announced during the Final Week of the WSIS Forum 2022, 30 May-03 June.
The Hackathon will contribute to:
Greater awareness of the importance of linguistic diversity and multilingualism, including in cyberspace, and of their contribution to self-empowerment, sustainable development, good governance, respect of human rights, as well as the importance of cultural diversity and biodiversity, dialogue, peace education in building open, inclusive, democratic and participatory societies.
Full realization of Indigenous language users' rights, which enhances the application of international human rights frameworks (instruments, norms, and standards) and ensures technical assistance for developing national legal systems and legislation, including in the administration of justice and the use of interpreters in the courts.
Integration, mainstreaming and usage of Indigenous languages by widening the functional scope of Indigenous languages, in all socio-cultural, economic, technological, environmental, political domains (public domains) thus stimulating dialogue, leadership, informed policy and decision-making processes, and associated implementation strategies, including the facilitation of Indigenous language use in international spaces.
Continued support through allocated financial, human, and institutional resources, and infrastructures, from governments, Indigenous Peoples' institutions and organizations, academia, and other relevant public and private institutions, as well as the UN-system entities which requires new resource mobilization programmes, partnership schemes and cooperation mechanisms in order to create a suitable enabling environment.
3 Challenge Areas
---
1
Knowledge
Creation of favourable conditions for knowledge-sharing and dissemination of good practices on Indigenous languages (content management systems, databases…)
2
Empowerment
Proposing Trainings and Capacity building programmes and solutions to learn and preserve Indigenous languages
3
Preservation
Sustaining and archiving tools to build access preserve, protect and revitalize Indigenous languages
Why should you participate?
---
Because your idea can make a difference in building more resilient, inclusive and sustainable societies
Because your innovation can make a difference, and help towards achieving Indigenous peoples' rights to freedom of expression, to an education in their mother tongue and to participation in public life using their languages, as prerequisites for the survival of Indigenous languages many of which are currently on the verge of extinction.
Who can apply and how?
---
The ICTs for Indigenous Languages Hackathon calls on creators and developers to form age-diverse teams of 2-5 and participate in the virtual hackathon.
Apply if you…
…are passionate about technology and innovation for positive and social/economic impact
…would like to promote access to digital information and content, information services and language technology for Indigenous peoples
…are in a team of motivated people and you would like to further develop your idea or an existing project
…understand and can create solutions that are intrinsically useful and appealing to language preservation
How to apply:
As a team (ideally between 2 to 5 participants; gender balance would be ideal)
NOTE that you can also apply individually (to get matched with an existing team that wishes your support over the course of the Hackathon).
Timeline
---
Winning Prize
---

The winning team in each of the 3 challenge areas will be provided with a USD 1,000 cash prize and 6 months of mentorship through Nokia to prepare the concept for release
---

Certificate of participation will be issued for all participating teams.
---
A Hacka… what?
---
A Hackathon is a powerful tool to innovate by bringing together diverse actors who do not usually work together. The format embraces the complexity of challenges, as well as enables the participants to identify practical interventions and approaches to address urgent issues. Moreover, the hackers will be benefiting from the specific know-how and skill sets of experts on the topic.