Virtual WSIS TalkX
---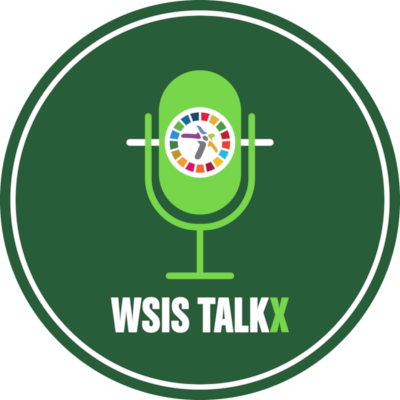 Starting in April, at the request of WSIS Stakeholders, the WSIS Team will host a weekly virtual WSIS TalkX the for WSIS Stakeholders to interact, connect and collaborate. Preparing towards the WSIS Forum 2020, High-level Track Facilitators, Workshop Organizers, WSIS Prizes 2020 Champions and others will be conducting virtual interactive talks highlighting their linkages with the WSIS Action Lines and SDGs.
Past Sessions
---
Cybersecurity: Online Educational Resources and Child Online Protection during COVID-19

8 April 2020, 14:00 – 15:00 CEST

(UTC+2)

Free Application and Scientific Resources to track COVID-19

9 April 2020, 16:00 – 17:30 CEST

(UTC+2)

Universal Design and Social Innovation during the COVID-19 Pandemic

17 April 2020, 14:00 – 15:00 CEST

(UTC+2)

The role of information, journalism and media in countering COVID-19

21 April 2020, 14:00 – 15:00 CEST

(UTC+2)

Drones and COVID-19: how do these applications help and do these applications make any sense?

28 April 2020, 14:00 – 15:00 CEST

(UTC+2)

The Threat of Social Isolation in Older Vulnerable Populations: Enabling Human Connection Through Technology During COVID-19

30 April 2020, 15:00 – 16:00 CEST

(UTC+2)

The importance of low tech internet lifelines in times of crisis

5 May 2020, 14:00 – 15:00 CEST

(UTC+2)

Tech and Trafficking in Persons during COVID-19 and beyond

12 May 2020, 16:30 – 17:30 CEST

(UTC+2)

Tips and Tools for Securing a Remote Workforce

14 May 2020, 14:00 – 15:00 CEST

(UTC+2)

Protecting Older, Vulnerable Populations in the COVID-19 Era: Scaling Technology Solutions

19 May 2020, 15.00 - 16.00 CEST

(UTC+2)

The Indian School where students with visual impairment thrive in learning despite lockdown

21 May 2020, 14:00 – 15:00 CEST

(UTC+2)

Women Engineers and Entrepreneurs: Challenges and Opportunities while facing lockdown

26 May 2020, 14:00 - 15:00 CEST

(UTC+2)
Upcoming Sessions
---
Ensuring women's safety online amidst COVID-19

4 June 2020, 15:00 – 16:00 CEST

(UTC+2)

---

The webinar will highlight the key trends and impacts of ICT-facilitated violence against women and girls during COVID-19. It will focus on concrete actions taken by governments, women's rights organizations,internet providers and mobile operators to strengthen women's safety online. It will also bring examples on how partnerships such as EQUALS can help to leverage common actions and bring different stakeholders together to scale up impact and efforts.

---

Register to join the zoom webinar:

https://itu.zoom.us/…




Real-time human captioning:

https://www.streamtext.net/…

---

Moderator and Speakers:

Ms. Loly Gaitan - Project Officer, ITU, EQUALS Hub
Ms. Lizzette Soria - Policy Specialist, UN Women
Ms. Zarizana Abdul Aziz - Co-founder of the Due Diligence Project
Ms. Erika Smith - Coordinator Take Back the Tech!, Association for Progressive
Ms. Mariana Lopez - Senior Advocacy Manager, Connected Women Programme, GSMA

---

Expanding mobile internet use during Covid-19 and beyond

9 June 2020, 14:00-15:00 CEST

(UTC+2)

This session will look at the impact of Covid-19 on internet adoption and use. The discussion will also aim to uncover digital inclusion policies to pursue, as lockdowns are gradually eased and governments start to develop post-Covid-19 recovery plans.

---

Register to join the zoom webinar: https://itu.zoom.us/…
Real-time human captioning: https://www.streamtext.net/…

---

Moderator and Speakers

Ms. Claire Sibthorpe
Head of Connected Society, Connected Women and Assistive Technology – GSMA


Claire is the Head of Connected Women, Connected Society and Assistive Tech at GSMA. These programmes are focused on accelerating digital inclusion for the underserved in low- and middle-income countries. Connected Women has a specific focus on accelerating digital and financial inclusion for women and Assistive Tech has a specific focus on advancing digital inclusion for those with disabilities.

Claire has been working for over 20 years with public, private and international development organisations on social policy and service delivery with a focus on information and communications technology (ICT) policy and practice. She has developed, managed and implemented programmes in Africa, Asia and the UK. Claire holds an MSc in Social Research Methods (2012) and an MSc in Social Policy and Planning in Developing Countries (1997) from the London School of Economics and Political Science (LSE).

---

H.E. Dr. Isa Ali Ibrahim (Pantami), PhD
Minister of Communications and Digital Economy of Nigeria


Dr. Isa Ali Ibrahim (Pantami) FNCS, FBCS, FIIM MCPN is the Honourable Minister of Communications and first ever, of Digital Economy of the Federal Republic of Nigeria. Born on the 20th of October 1972, in Gombe state Nigeria, where he hails from, Dr Pantami graduated with a Bachelor of Technology in Computer Science (B-Tech), from the Abubakar Tafawa Balewa university (ATBU), and proceeded to acquire two Masters Degrees from the same institution in quick succession. One in Computer Science (MSc) and the other, an MBA in Technology Management with flying colours. From then on, there was no looking back, as his scholarly pursuits took him to far away United Kingdom to one of the best and highly respected and recognized educational institutions globally; the Robert Gordon University Aberdeen Scotland, where he bagged a Doctorate in Computer Science (PhD), specialising in Computer Information Systems.

Under the leadership of Dr. Pantami, as the first ever Minister of Communications and Digital Economy, a Digital Economy Policy and Strategy is currently being reviewed for implementation by an ably qualified team. As a man of many firsts, his successes in the industry have led to unprecedented changes in the country.

He also holds certificates in Digital Transformation from Harvard, Digital Strategy from both Massachusetts Institute of Technology (MIT), and Institute of Management Development Loussaune, Switzerland, Strategic Leadership from Oxford University, and a University of Cambridge Certification in Management. The dynamic, inspirational agent of transformation, is also a conflict resolution expert with national and international experiences in that regard.

The youthful, resourceful, hardworking and dedicated Dr. Pantami is a recipient of global awards too numerous to mention.

Dr. Isa Ali Ibrahim (Pantami) who is popularly known as the Digital Minister, is a global IT citizen, a revered and highly respected Fellow of the Nigerian and British Computer Societies, and is happily married with children.

---

Mr. Stephen Chege
Chief Corporate Affairs Officer – Safaricom

Stephen is responsible for the Corporate Affairs Division, which provides strategic support functions to Safaricom's operations. These functions include the Regulatory and Public Policy, Legal and Secretarial Services; Corporate Responsibility (incorporating the Safaricom and M-PESA Foundations as well as Sustainability Reporting); and the Corporate Communications functions.

Stephen has a wealth of telecommunications professional experience spanning over 14 years in various organisations, including Vodafone Group UK. He first joined Safaricom in 2006 as In-House Counsel, rising over the years to hold the position of Senior Manager, Public Policy & Market Regulation until 2011 when he was appointed Head of Regulatory and Public Policy. In April 2015, he became the Director, Corporate Affairs.

An advocate of the High Court of Kenya, Stephen holds a Masters in Law (LL.M) in International Trade and Investment Law from the University of Nairobi and a Bachelor of Laws Degree (LL.B) from the same University and is a Certified Public Secretary. His a Trustee of the Safaricom Foundation, and a member of the Taskforce established under the Kenyan ICT Ministry to develop the Policy Framework and Critical Infrastructure Bill for the protection of critical ICT infrastructure.

---

Mr. Ali Naseer
Chief Business Officer – Jazz, Pakistan

Ali has been with Jazz, since 2016, and brings with him over 30 years of diverse experience in various industries and countries, in both the public and private sectors. He has been involved in collaborative projects and building relationships in developed and emerging markets, at the highest levels of government and industry.

At Jazz, he has been heading the B2B Division, JazzBiz, that provides end-to-end solutions to corporate and enterprise customers. These include Cloud and Mobile Financial Payment products, besides the more traditional Fixed and GSM suite.

Prior to Jazz, Ali spent over a decade with British American Tobacco (BAT), overseeing the Regulatory function across Asia-Pacific. This involved interacting with national governments besides international and multi-national organizations. Before BAT, Ali had a decade long career as a civil servant in Pakistan.

He has a post-graduate diploma in Social Sector Development from the USA where he was a Hubert H. Humphrey Fellow. He received his MSc. Studies, as a Chevening Scholar, from School of Oriental & African Studies, and prior to that completed his BSc. (Hons) degree in Government & Economics from the London School of Economics.

Ali contributes to charitable causes, and is currently serving on the Board of the International School of Islamabad (ISOI) and the National Incubation Center in Islamabad). He is a founding trustee of Women on Boards. He is also Chairman of the Jazz Foundation, which is the non-profit arm of Jazz.

---

Mr. Davide Strusani
Principal economist – TMT, Disruptive Technology and Funds, IFC

At the IFC, Davide leads the economics team that focuses on telecoms, technology, digital services, venture and equity fund investing. As part of its role, Davide's team assesses the development impacts of investments made by IFC in these industries and undertakes economic research to inform the development of private sector market in developing economies.

Davide is a recognized expert on the role of communications and technology in delivering economic and social growth, having led numerous in-country campaigns aimed at focusing governments and sector regulators on the benefits of ICT.

Davide has over 17 years of experience in development banks and top global consulting firms, working for over 50 large organizations including governments, private clients, industry organizations and NGOs, in 40 countries worldwide. Davide has worked extensively for digital players such as Google, Facebook and eBay. Davide is an expert of mobile connectivity and of telecom regulation and competition, and has studied in depth the evolution of competition policy across the digital ecosystem. Davide featured twice in The Economist as expert of the economic impacts of Hyperconnectivity, and one of his papers on a global study on the economic impacts of mobile broadband on growth has featured in the World Economic Forum Review. Davide is a regular speaker at the GSMA's World Mobile Congress.

---
Disclaimer
The WSIS Team is organizing and coordinating the Virtual WSIS TalkX, however the content is stakeholder driven, and the statements, opinions, and conclusions expressed in the WSIS TalkX do not reflect the views of the organizers. We regret any errors or omissions that may be unwittingly made.