Virtual WSIS TalkX
---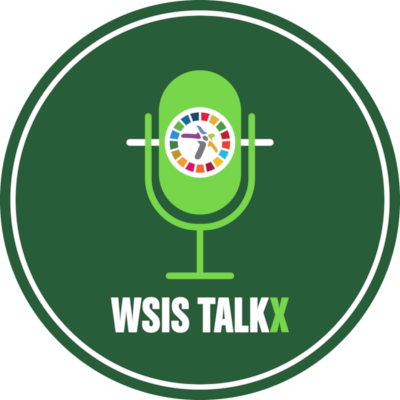 The WSIS TalkX is a platform, both virtual and physical, dedicated to sharing experiences and inspirational stories about ICTs for development (implementation of the WSIS Action Lines for Development) by stakeholders all over the world. The WSIS TalkX was initiated during the WSIS Forum 2019 and at the request of stakeholders as a continuous virtual series since April 2020. More than 30 physical and virtual sessions have been conducted, which have all been adapted to podcasts and are available to listen and download at WSIS TalkX Podcast. The WSIS TalkX this year have been conducted in a virtual format where WSIS stakeholders have highlighted their linkages with the WSIS Action Lines and SDGs, in particular, in relation to the global response to COVID-19. The interactive talk series is also an opportunity to hear from the globally recognized WSIS Prizes awardees, as well as from the partners of the WSIS Forum.
Past Sessions
---
Cybersecurity: Online Educational Resources and Child Online Protection during COVID-19

8 April 2020, 14:00 – 15:00 CEST

(UTC+2)

Free Application and Scientific Resources to track COVID-19

9 April 2020, 16:00 – 17:30 CEST

(UTC+2)

Universal Design and Social Innovation during the COVID-19 Pandemic

17 April 2020, 14:00 – 15:00 CEST

(UTC+2)

The role of information, journalism and media in countering COVID-19

21 April 2020, 14:00 – 15:00 CEST

(UTC+2)

Drones and COVID-19: how do these applications help and do these applications make any sense?

28 April 2020, 14:00 – 15:00 CEST

(UTC+2)

The Threat of Social Isolation in Older Vulnerable Populations: Enabling Human Connection Through Technology During COVID-19

30 April 2020, 15:00 – 16:00 CEST

(UTC+2)

The importance of low tech internet lifelines in times of crisis

5 May 2020, 14:00 – 15:00 CEST

(UTC+2)

Tech and Trafficking in Persons during COVID-19 and beyond

12 May 2020, 16:30 – 17:30 CEST

(UTC+2)

Tips and Tools for Securing a Remote Workforce

14 May 2020, 14:00 – 15:00 CEST

(UTC+2)

Protecting Older, Vulnerable Populations in the COVID-19 Era: Scaling Technology Solutions

19 May 2020, 15.00 - 16.00 CEST

(UTC+2)

The Indian School where students with visual impairment thrive in learning despite lockdown

21 May 2020, 14:00 – 15:00 CEST

(UTC+2)

Women Engineers and Entrepreneurs: Challenges and Opportunities while facing lockdown

26 May 2020, 14:00 - 15:00 CEST

(UTC+2)

Ensuring women's safety online amidst COVID-19 and beyond

4 June 2020, 15:00 – 16:00 CEST

(UTC+2)

Expanding mobile internet use during Covid-19 and beyond

9 June 2020, 14:00-15:00 CEST

(UTC+2)

Ensuring quality higher education during public emergencies: Chinese Universities' e-learning capacity building experience in coping with COVID-19

16 June 2020, 14:00-15:00 CEST

(UTC+2)

5G Technology for COVID-19 Prevention and Control

18 June 2020, 14:00-15:00 CEST

(UTC+2)

Accelerating progress on the SDGs through Information and Communication Technologies and WSIS Action Lines

26 October 2020, 15:00 – 16:00 CET

(UTC+1)

ICTs for Building Back Better: Toward a disability-inclusive, accessible and sustainable post COVID-19 World

3 December 2020, 14:00 – 15:15 CET

(UTC+1)


(International Day of Persons with Disabilities)
Upcoming Sessions
---
ICTs and Civil Aviation: Trends, Opportunities and Challenges

7 December 2020, 14:00 – 15:00 CET

(UTC+1)


(UN International Civil Aviation Day)

This session will present an overview of the role that ICT plays in modern civil aviation, and the contribution of all Stakeholders including UN organizations like ICAO and ITU, in making aviation safe and competitive. The current status of wireless communication and navigation systems used in aircraft design, flight operations and passenger entertainment will be highlighted, and the challenges the aviation community is facing will be discussed. The session will also look at the future emerging communication and aeronautical technologies, such as state-of-the-art plane concepts, unmanned aircraft, sub-orbital flights.

Moderator:

Moderator
Mr. Mario Maniewicz
Director, Radiocommunication Bureau, ITU


Panellists:

Mr. Stephen P. Creamer
Director, Air Navigation Bureau, International Civil Aviation Organization (ICAO)


Steve Creamer is the new Director of the Air Navigation Bureau at ICAO, taking responsibility for the role in April 2015. Steve has held a number of executive and managerial positions at the U.S. Federal Aviation Administration with over 33 years' experience in the Air Traffic and International Aviation organizations. They include serving as FAA Regional Office Director for Europe, Africa and the Middle East; and serving as a member of the ICAO Air Navigation Commission.

Steve began his career in air traffic operations, eventually managing all Alaskan and North Pacific airspace, pioneering new airspace use techniques that improved capacity and access for all operators. More recently his work has broadened to the international implementation of procedures and technology systems that improve aviation safety, with a careful eye toward retaining capacity and efficiency.

---

Mr. John Mettrop
Spectrum Policy Specialist Civil Aviation Authority, UK and Chairman of the ITU-R Working Party 5B, ITU

John is the spectrum policy lead for the UK Civil Aviation Authority and the chairman of Working Party 5B that is the responsible group for aeronautical, maritime and radiodetermination issues. He also routinely attends ICAO, CEPT and ETSI meetings related to aeronautical spectrum issues.

---

Ms. Lisa Cokisa Tele
Project Planning Manager, Air Traffic and Navigation Services (ATNS)


Lisa is the Planning Project Manager for the South African Air Navigation Service Provider (ATNS). She is the SWG chairman of ITU Working Party 5B that is responsible for aeronautical, maritime and radiodetermination issues. She is also South African Panel member at ICAO. She participates in ATU meetings on aeronautical spectrum related issues.

---

Mr. Philip Balaam
President, Aviation, Inmarsat


Phil is responsible for delivering the Aviation Business Unit's business plan in line with its growth strategy. This includes secure cockpit communications, business aviation and commercial airline cabin connectivity.

---

Mr. Joe Cramer
Director - Regulatory Affairs, The Boeing Company


Joe Cramer is a Senior Manager with The Boeing Company's Global Spectrum Management Organization, in its Washington, DC Office. Joe focuses on regulatory and policy issues, particularly civil and military aviation spectrum and technology issues. Joe began his career working for the United States Congress where he focused on legislative policy issues impacting transportation, science and business interests. Subsequently, he worked for Rockwell Collins and Lockheed Martin in managerial roles in their Washington DC offices leading government affairs efforts on aerospace, technology and radio frequency spectrum policy and regulatory issues.

Joe is the aerospace industry representative to the ICAO Frequency Spectrum Management Panel. He serves and has served in leadership roles in several radio frequency and technology related advisory committees. Joe actively participates in ITU-R groups, focusing on topics related to aviation and aerospace. In the U.S., he represents Boeing domestically before Executive Branch agencies.

Joe has a BS degree in Mechanical Engineering, a Juris Doctor (law) degree from the Catholic University, Columbus School of Law in Washington DC, and a Masters in Business Administration.

---

Youth Representative
Mr. Nicolaos Episkopou
Aircraft Dismantling Operations, H&S Engineer, Project Development, Pegasus Flight Center/ WSIS Intern


Nicolaos Episkopou, 25 years old, recent graduate with MSc Aerospace Engineering and Management. Currently working at Pegasus Flight Center and ITU in WSIS Team. The expertise in the Aerospace Sector is the reduction of emissions and sustainable aviation in the Future.

---

Participants link to register to join the session:

Recording: https://itu.zoom.us/…

---
Disclaimer
The WSIS Team is organizing and coordinating the Virtual WSIS TalkX, however the content is stakeholder driven, and the statements, opinions, and conclusions expressed in the WSIS TalkX do not reflect the views of the organizers. We regret any errors or omissions that may be unwittingly made.