WSIS 2020 High-Level Interactive Policy Sessions
---
Chairman
---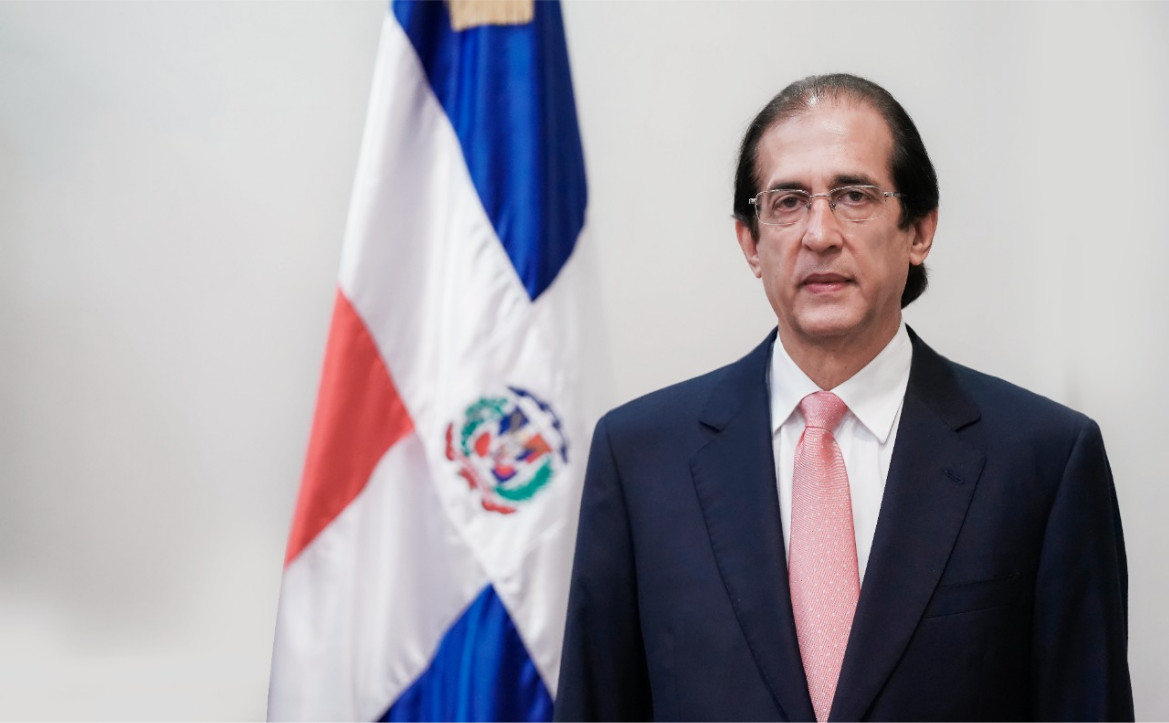 H.E. Mr. Gustavo Montalvo
Minister of the Presidency
Dominican Republic
CV
The WSIS Forum 2020 (WSIS+15) serves as a key forum for discussing the role of ICTs as a means of implementation of the Sustainable Development Goals and targets, with due regard to the global mechanism for follow-up and review of the implementation of the 2030 Agenda for Sustainable Development (UNGA Resolution A/70/1). The WSIS Forum also provides a platform to track the achievements of WSIS Action Lines in collaboration with the UN Agencies involved and provides information and analysis of the implementation of WSIS Action Lines since 2005.
The WSIS Forum 2020 High-Level Track will start on July 20, with the High-Level Policy sessions. The final week of the Virtual WSIS Forum 2020 will take place on 7-10 September 2020, featuring an opening segment, a Ministerial round table, and High-Level dialogues.
The High-Level Policy sessions will gather High-ranking officials of the WSIS Stakeholder community, representing the Government, Private Sector, Civil Society, Academia and International Organizations. Interactive policy statement sessions will be moderated by High-Level Track Facilitators (HLTFs), nominated and identified by each stakeholder type and will be grouped around different themes identified as important by the WSIS Stakeholders during the open consultation process. The main task of the HLTFs is to capture the vision, identify emerging trends, opportunities and challenges shared by the leaders of their session.
The concluding session of the High-Level Track will take place during the final week of the WSIS Forum 2020, on September 8. During the concluding session, the WSIS Forum 2020 Chairman will provide an executive summary, giving a platform for all the HLTFs to submit the outcomes of their respective policy session. A publication entitled "WSIS Forum 2020: Policy Statements and Executive Brief" will be issued to encapsulate these outcomes.
---
High-Level Track Facilitators
---

Associate Professor, Department of Electrical Engineering

Institute of Electrical and Electronic Engineers


Head of Institutional Relations and Member Relations South
European Broadcasting Union


Senior Lecturer, Department of Telecommunications Sciences

Senior Policy Advisor, Global Policy Development

IT Consultant, Master Scrum

International Chamber of Commerce

Associate Professor of Information Systems
College of Business University of Colorado


Deputy President
,
Office of Electronic Communications


Chair of the Steering Board
Networld2020 European Technology Platform

Minister
,
Ministry of Technology & Communications

Minster, Ministry of Communication and Technology in Arab Syrian Republic
,
Ministry of Communication and Technology in Arab Syrian Republic

CEO
,
Ministry of Technology & Communications

Women in Technology in Nigeria(WITIN)

Vice-President
,
Azerbaijan National Academy of Sciences

H.E. Mrs. María Teresa Arcos
Director General of Telecommunications and Audiovisual Services
,
Ministry of Economic Affairs and Digital Transformation

Administrator
,
Ghana Investment Fund for Electronic Communications

SAMENA Telecommunications Council

Chairmen of the Board
,
Latvia State Radio and Television Centre


Minister
,
Ministry of Post and Telecommunications

Deputy Director General for Digital and Innovation Policy
,
German Federal Ministry for Economic Affairs and Energy

Undersecretary of State / Deputy Minister of Digital Affairs
,
Ministry of Digital Affairs

Chairman of the Board of Directors
,
ANACOM

Dr. Bernardo Calzadilla-Sarmiento
Director, Department of Trade, Investment and Innovation
United Nations Industrial Development Organization (UNIDO)

Assistant Director-General for Communication and Information

Vice-Minister
,
Ministry of the Economy and Innovation of the Republic of Lithuania

Ms. Lylian Coelho Ferreira
Vice-President Co-Founder

Representative Director and Permanent Observer to the UNOG
International Chamber of Commerce

Dr. Zoraima Cuello Sanlate
Deputy Minister
,
Ministry of the Presidency

Additional Secretary
,
Ministry of Information Technology & Telecom, Government of Pakistan

Ms. Moira de Roche Holmes
Chair: IFIP IP3, IFIP Board member
International Federation for Information Processing (IFIP)

H.E. Ms. Ndeye Ticke Ndiaye Diop
Ministre
,
Ministere de l'Economie Numérique et des Télécommunications

Regional Vice President, Europe

INTERNATIONAL COMMISSION ON CYBER SECURITY LAW

H.E. Mr. Hipolito Ondo Envo Bela
Vice Minister
,
Ministry of Transportation, Post and Telecommunications

E-Seniors and European Federation for Older Persons, (EURAG) Representative

Internet Governance Forum Multistakeholder Advisory Group

H.E. Mr. Mattia Fantinati
Special Advisor
,
Ministry of Innovation and Digitalization


Vice Minister
,
Undersecretariat of Telecommunications

Director, Division of Enterprises and Institutions,
International Trade Centre

Presidente del Consejo Directivo
,
Insittuto Dominicano de las Telecomunicaciones

Vice Chairman Admin and Finance
,
Afghanistan Telecom Regulatory Authority (ATRA)

Global Coalition on Aging

ESOA (EMEA Satellite Operators Association)

Director General of Frequency Management and Postal and ICT Devices
,
Ministry of Communication and Informatics of Republic of Indonesia

H.E. Mr. Rossen Jeliazkov
Minister
,
Ministry of Transport, Information Technology and Communications of the Republic of Bulgaria

National Digital Advisor
,
Governments Office

African Civil Society on the Information Society (ACSIS)


Mr. Ömer Abdullah KARAGÖZOĞLU
Chairman of the Board, President of the Authority
,
Information and Communication Technologies Authority (ICTA) of Turkey

H.E. Mr. Augustin KIBASSA MALIBA
Ministre
,
Ministère des Postes, Télécommunications & Nouvelles Technologies de l'Information et de la Communication


Director
,
National Telecommunications Regulatory Commission
Saint Vincent and the Grenadines


Dr. Kokula Krishna Hari Kunasekaran
Association of Scientists Developers and Faculties

G3ict - Global Initiative for Inclusive ICTs

United Nations Industrial Development Organization (UNIDO)


China Academy of Information and Communications Technology(CAICT)

State Secretary at the Ministry of Economic Development
,
Ministry of Economic Development

Commissioner
,
Communications Regulatory Commission

IEEE Canada Past President

Dr. Gift Kallisto Machengete
Director General
,
Postal and Telecommunications Regulatory Authority of Zimbabwe

Chief Executive Officer
,
Lesotho Communications Authority

United Nations Office for Disaster Risk Reduction

Assistant-Secretary-General, and Special Representative of the Secretary-General for Disaster Risk Reduction


Hon Minister
,
Ministry of Information Communication Technology,Postal and Courier Services

Global Enabling Sustainability Initiative (GeSI)

25th Century Technology Limited

Chief, Information and Communications Technology and Development Section
United Nations Economic and Social Commission for Asia and the Pacific

H.E. Mrs. Ursula Owusu-Ekuful
Minister for Communications
,
Ministry of Communications

Mr. Semuel Abrijani Pangerapan
Director General of Informatics Applications
,
Ministry of Communications and Informatics

CEO and Founder of Horyou

Deputy Minister
,
Ministry of Digital Development, Communications and Mass Media of the Russian Federation

H.E
,
Ministry of Communication and Information Technology

International Affairs Correspondent

Vice-Minister, Department of Telecommunications, Government of India
,
Ministry of Communications

H.E. Mr. BUDDHIPONGSE PUNNAKANTA
Minister
,
Ministry of Digital Economy and Society, Thailand

Bangladesh NGOs Network for Radio & Communication

Presidente Swiss Engineering Genève , President and Co-founder WOMENVAI

Commissioner
,
Federal Telecommunications Institute

H.E. Mr. Ernesto Rodriguez Hernandez
Deputy Minister
,
Ministry of Communications

EC MEDICI Framework of Cooperation

Founder and President of Fundación Cibervoluntarios
Fundación Cibervoluntarios - Cibervoluntarios Foundation

Ms. Armida Salsiah Alisjahbana

Safe Drinking Water For All - SDW

H.E. Mr. Mohammed Saud Al-Tamimi
Communications and Information Technology Commission (CITC)

Ambassador, Head of International Relations Service and Vice-Director OFCOM
,
Federal Office of Communications OFCOM

United Nations Institute for Training and Research (UNITAR)

Dr. Hadi Shahriar Shahhoseini
IUST Vice Chancellor for International Affairs and Director of Research Center for ICT Strategic and International Studies (ICT-SIS)
Iran University of Science and Technology (IUST)

Prof. Ahmad Reza Sharafat
Chairman, ITU-D Study Group 2
International Telecommunication Union

Minister of Telecommunication and Information Technology
,
Ministry of Telecommunication and Information Technology

H.E. Mr. Eng. Majed Sultan Al Mesmar
Deputy Director General
,
Telecommunications Regulatory Authority

STATE SECRETARY FOR ICT
,
MINISTRY OF ECONOMY AND INFRASTRUCTURE

Cybersecurity Management Council

Acting-Executive Director
International Trade Center (ITC)

Assistant Director-General, Economic and Social Development Department

Deputy minister
,
Ministry of Transport, Communications and High Technologies

Director-General for International Affairs
,
Ministry of Internal Affairs and Communications


Comprehensive Nuclear-Test-Ban Treaty Organization

United Nations Under-Secretary-General for Economic and Social Affairs
United Nations Department of Economic and Social Afffairs (UN DESA)