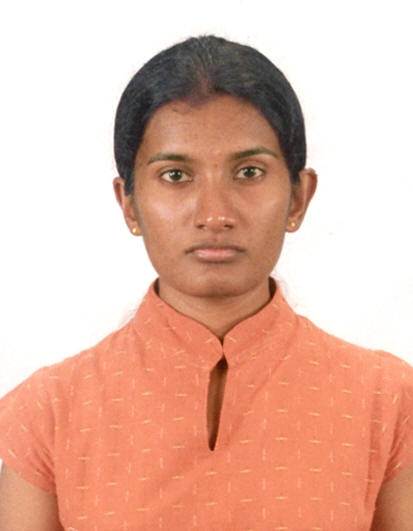 • YES Winner/Sponsor: 2008 (Spain Administration)
• Name/First Name: SENEVIRATNE Mudiyanselage Akila Jayani
• Age: 25
• Country of Origin: Sri Lanka
• Country of Study : Australia
• Present Country : Australia
• Highest degree obtained: Master in Electronic Engineering Research,
University of Surrey
• Current degree: PhD course in Electrical Engineering and
Telecommunications, University of New South Wales



The interest I developed towards mathematics and science at a very young age left me with no doubt as to what I wanted to be as a professional. Despite the negative attitudes of the local society towards females entering the field of Engineering, I chose to follow it, with my parents' blessings.

During my undergraduate course I contributed to many projects and participated in many conferences and competitions. I am fascinated by research and I believe that a PhD would give me an opportunity to pursue my passion towards research. Furthermore it would enrich my knowledge and boost my career prospects.

Although I had a dream of perusing my studies up to a PhD my financial difficulties stood in my way. I was fortunate enough to participate at the ITU Telecom World 2006 in Hong Kong as a youth fellow representing Sri Lanka. There I learnt about the Youth Education Scheme scholarship.

Being awarded the YES scholarship was a very important turning point of my life. It enabled me to get the initial funding that is required to start my studies at University of New South Wales, Sydney, Australia. Thanks to the YES scholarship I am currently following a PhD course in Electrical Engineering and Telecommunication.

I believe that a country like Sri Lanka needs trained professionals and people who have a sense of latest technology to apply their knowledge in a practical manner towards the needs of a developing country. As a trained professional in research I would be able to help my country keep up with the rest of the world and face the challenges of the future in a bolder manner.