e-Health
The World Health Organization defines e-Health as "…the cost-effective and secure use of information and communications technologies in support of health and health-related fields, including health-care services, health surveillance, health literature, and health education, knowledge and research..." (see Resolution 58/28 of the World Health Assembly, Geneva, 2005).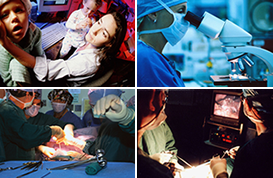 At the International Telecommunication Union, the ICT Applications and Cybersecurity Division provides assistance to developing countries, among others, by advising on e-Health strategies and policies, creating guidelines and training materials on e-Health applications, and assisting in implementing technical cooperation projects. Our tools and services are geared to improving access to health services through better use of information and communications technologies (ICTs).
To be effective, e-Health requires appropriate regulatory, legal and policy frameworks in both the telecommunications and the health sectors. Some of the critical factors for success are proper project management and a coordinated approach following a clear vision, the building up and maintenance of adequate technological infrastructure, the commitment of trained end-users and ICT literate citizens, and the political desire to achieve challenging but realistic e-health goals. Some key issues in e-health are data security and privacy. Wherever possible, e-health networks and applications should share expensive communication infrastructures with other ICT applications requiring secure and interoperable systems, such as e-government and e-commerce.
Generally, the potential benefits of e-Health include:
Faster and easier storage, transmission and access to medical data and health-related information for healthcare providers and professionals, citizens/patients, academics, researchers, policy makers and others.

Capacity building and improved delivery of healthcare services, particularly in rural and remote areas.

Reduction of operational and administrative costs in implementing healthcare services.
Learn more about ITU's activities in e-Health and see other interesting links below.
The purpose of Programme 2 (Hyderabad, 2010) is to support the ITU membership in improving access to ICT applications and services, especially in underserved and rural areas, achieving trust and confidence in the use of ICTs, the Internet and next-generation networks, promoting fair and equitable access to critical Internet resources. The activities in the broad area of ICT Applications includes promoting and implementing e-Services and e-Applications (e.g., e-Government, e-Business, e-Learning, e-Health, e-Employment, e-Environment, e-Agriculture, e-Science, etc.) in developing countries. Some related resources can be found below.