Digital Service Design Prize
---
Digital government services have had a surge of growth during the past decade. The average country has improved 43% based on the Online Services Index (UN eGov Index), with some countries surging forward from scratch to those with excellence continuing to develop. New initiatives, like GovStack, are seeking to help governments continue to take ownership of their digital futures by building more effective and cost-efficient digital government services.
Given feedback from stakeholders through the Digital Public Goods Alliance (DPGA), GovStack Initiative, WSIS community, and more, there has been growing recognition of the importance of highlighting excellence in the field. In order to highlight and share exemplar digital government services and associated work, a WSIS Digital Service Design Prize ("the Prize") was announced at the WSIS Forum 2022 by Ms Nele Leosk, Ambassador-at-large for Digital Affairs of Estonia, and Mr Björn Richter, Head of the Digital Development Programme, GIZ. In collaboration with GovStack Global, the Prize will serve to highlight innovative and impactful government service designs.
The Prize will highlight digital service design that address a citizen/resident need(s) through improving, innovating, or developing government processes, and are designed for scalability, extensibility, and adaptability to a variety of generic workflows.
In addition to partnering with the WSIS Forum 2023, the Prize will be supported by GovStack founding partners: ITU, the Digital Impact Alliance, GIZ, and Republic of Estonia.
The Prize will join the ranks of other WSIS Special Prizes and build on the WSIS multistakeholder platform of facilitating implementation for advancing sustainable development.
Timeline
1 Nov 2022 – 27 Jan 2023

Submissions

Open submission by teams

Deadline extended to 27 January 2023

Deadline for last submission: 23:00 Geneva time

---

8 January – 15 February 2023

Nominations

Review of submissions

---

16 February – 12 March 2023

Selection of winning projects

Shortlisted submissions will be invited to present in person at WSIS 2023

---

13-17 March 2023

Announcement of Winning Prize

Announcement of winner at a public event at WSIS Forum 2023

---
Submissions should reflect an up-and-running Digital Service:
The submission is not limited based on software language, interface UI/UX language, operating system
The submission should address a citizen/resident need(s) through improving, innovating, or developing government processes
The submission should be designed for scalability, extensibility, and adaptability to a variety of generic workflows
All projects submitted to this competition should cover work that is completed or at the end of a major phase to provide evidence of results and its social, economic, and environmental impact
Submissions to the WSIS Prizes does not exclude participation in the Digital Service Design Special Prize
Submitters may choose to have their submissions considered for any applicable WSIS Prize lines during future years
The winning submission and all runners-up will be published at govstack.global
WSIS Action Line Framework: ICT Applications e-Government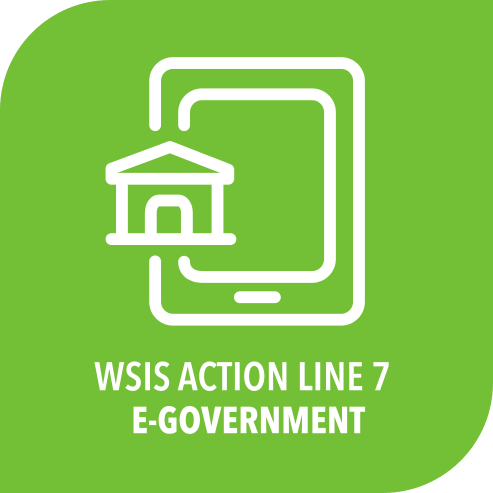 ICT applications can support sustainable development, in the fields of public administration, business, education and training, health, employment, environment, agriculture and science within the framework of national e-strategies. This would include actions within the following sector:
Implement e-government strategies focusing on applications aimed at innovating and promoting transparency in public administrations and democratic processes, improving efficiency and strengthening relations with citizens.
Develop national e-government initiatives and services, at all levels, adapted to the needs of citizens and business, to achieve a more efficient allocation of resources and public goods.
Support international cooperation initiatives in the field of e-government, in order to enhance transparency, accountability and efficiency at all levels of government.
Related Sustainable Development Goals: