WSIS 2023 High-Level Interactive Policy Sessions
---
Chairperson
---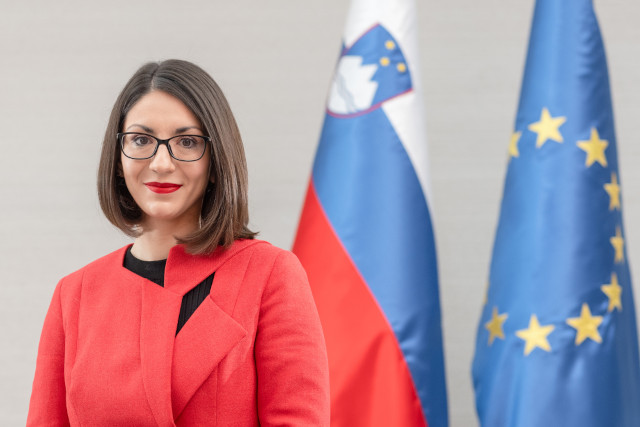 H.E. Dr Emilija Stojmenova Duh
Minister of Digital Transformation
Republic of Slovenia

---
The WSIS Forum 2023 serves as a key forum for discussing the role of ICTs as a means of implementation of the Sustainable Development Goals and targets, with due regard to the global mechanism for follow-up and review of the implementation of the 2030 Agenda for Sustainable Development (UNGA Resolution A/70/1). The WSIS Forum also provides a platform to track the achievements of WSIS Action Lines in collaboration with the UN Agencies involved and provides information and analysis of the implementation of WSIS Action Lines since 2005.
The WSIS Forum 2023 High-Level Track will take place on 14 and 15 March 2023, at the International Conference Centre Geneva (CICG), in Geneva with enhanced remote participation, featuring an Opening segment, the appointment of the WSIS Forum 2023 Chairperson, High-Level Policy Sessions, a Ministerial round table, and High-Level dialogues.
The High-Level Policy sessions will gather High-ranking officials of the WSIS Stakeholder community, representing the Government, Private Sector, Civil Society, Academia and International Organizations. Interactive policy statement sessions will be moderated by High-Level Track Facilitators (HLTFs), nominated and identified by each stakeholder type and will be grouped around different themes identified as important by the WSIS Stakeholders during the open consultation process. The main task of the HLTFs is to capture the vision, identify emerging trends, opportunities and challenges shared by the leaders of their session.
The concluding session of the High-Level Track will take place on 15 March 2023. During the concluding session, the WSIS Forum 2023 Chairperson will provide an executive summary, giving a platform for all the HLTFs to submit the outcomes of their respective policy session. A publication entitled "WSIS Forum 2023: Policy Statements and Executive Brief" will be issued to encapsulate these outcomes.


H.E. Dr. Lamia Fathi ABUSEDRA
Ambassador Extraordinary & Plenipotentiary, Permanent Representative.
,
Permanent Mission of Libya to the United Nations Office

H.E. Ms. Teuta AGAI-DEMJAHA
Permanent Representative
,
Permanent Mission of the Republic of North Macedonia to the United Nations Office and other international organizations in Geneva

Deputy Minister
,
Ministry of Digital Development and Transport of the Republic of Azerbaijan

H.E. Ms. Mashael Al Hammadi
Acting Assistant Undersecretary of Government Information Technology Affairs
,
Ministry of Communications and Information Technology

H.E. Mr. Mohamed bin Thamir Al Kaabi
Minister of Transportation and Telecommunications
,
Ministry of Transportation and Telecommunications

Minister
,
Ministry of Information Society and Administration

Dr. Mercedes Aramendia Falco
Presidenta de Directorio de URSEC
,
Unidad Reguladora de Servicios de Comunicaciones (URSEC)

Dr. Nelson de Jesús Arroyo Perdomo
Presidente del Consejo Directivo
,
Instituto Dominicano de las Telecomunicaciones (INDOTEL)

Honorable Minister of Communications and Digital Economy
,
Ministry of Communications and Digital Economy

Mr. Carlos Manuel Baigorri
President
,
National Telecommunication Agency (Anatel)

Head of eServices Development
,
Ministry of Digital Transformation of Ukraine

Ms. Phyllis Barkman Ferrell
Global Head, External Engagement, Alzheimer's Disease and Neurodegeneration

Minister of communication technologies
,
Ministry of communication technologies


Chairman of ANACOM's Board of Directors
,
Autoridade Nacional de Comunicações (ANACOM)

Eng. Gilbert Camacho Mora
Council Member
,
Superintendence of Telecommunications (Sutel)

Head Of Strategy & Policy, Huawei EU Public Affairs And Communication Office 

Ms. Maria Manuela Catrina
Undersecretary of State, Deputy-Director
,
National Cyber Security Directorate

South School on Internet Governance SSIG

Ms. Laura Fernández Cavas
Head of Sustainable Finance

Minister of Post and Telecommunications
,
Ministry of Post and Telecommunications

WB Infrastructure Vice-President

H.E. Ms. Bella Cherkesova
Deputy Minister
,
Ministry of Digital Development, Communications and Mass Media of the Russian Federation


H.E. Mr. Jose Agustinho da Silva
Minister of Transport and Communications
,
Ministry of Transport and Communications

Ambassador and Permanent Representative
,
Permanent Mission of the Republic of Fiji to the United Nations Office and other international organizations in Geneva

International Federation for Information Processing IFIP

INTERNATIONAL COMMISSION ON CYBER SECURITY LAW


H.E. Ms. Usha Dwarka-Canabady
Ambassador Extraordinary and Plenipotentiary, Permanent Representative
,
Permanent Mission of the Republic of Mauritius to the United Nations Office and other international organizations in Geneva

H.E. Ms. Meirav EILON SHAHAR
Ambassador and Permanent Representative of Israel to the UN
,
Permanent Mission of Israel to the United Nations Office

H.E. Ms. Anna Karin Eneström
Ambassador,Co-facilitator, Global Digital Compact
,
Permanent Mission of Sweden to the United Nations Office

Swiss Special Representative for Science and Diplomacy
Swiss Ministry of Foreign Affairs

H.E. Mr. Ömer Fatih Sayan
Deputy Minister
,
Ministry of Transport and Infrastructure

Director General
,
National Communication Authority

H.E. Mr. Ousmane Gaoual DIALLO
Minister
,
Ministère des Postes, des Télécommunications et de l'Économie

Ambassador, Co-facilitator, Global Digital Compact
,
Permanent Mission of the Republic of Rwanda to the United Nations Office

Minister
,
Ministry of Innovation and technology

UN Secretary-General's Envoy on Technology

Eng. Wilfredo Gonzalez Vidal
First Deputy Minister
,
Ministry of Communications of Cuba



H.E. Mr. Hassan Hamid HASSAN
Ambassador, Permanent Representative
,
Permanent Mission of the Republic of the Sudan to the United Nations Office and other international organizations in Geneva

Education Data Digital Sovereignty (EDDS)

Permanent Secretary
,
Deputy Ministry of Research, Innovation and Digital Policy

Acting Chief Information Officer
,
Emirates Health Services

Commissioner
,
Georgian National Communications Commission

Minister
,
Ministry of ICT & Innovation

Director General of Resource Management and Equipment of Post and Informatics
,
Ministry Communication and Informatics

Assistant Director-General

H.E. Mr. Rogelio Jimenez Pons
Undersecretary of Transport
,
Ministry of Infrastructure, Communications and Transports

Acting Commissioner President
,
Federal Telecommunications Institute


Mr. Ömer Abdullah Karagözoğlu
President
,
Information and Communication Technologies Authority (BTK)

AFFORDABLE INTERNET ACCESS SIG ( INTERNET SOCIETY)

H.E. Mr. Robert Khachatryan
Minister
,
Ministry of High-Tech Industry of the Republic of Armenia

H.E. Mr. Jama Hassan Khalif
Minister of Communications and Technology
,
Ministry of Communications and Technology

H.E. Dr. Mohammad Khansari
Deputy Minister and Head of Information Technology Organization (ITO)
,
Ministry of Communication and Information Technology
Iran (Islamic Republic of)

Director
,
National Telecommunications Regulatory Commission
Saint Vincent and the Grenadines

Head of Cybersecurity
,
UAE Government

Deputy Assistant Secretary of State for International Information & Communications Policy
,
Bureau of Cyberspace and Digital Policy

Ambassador-at-Large for Digital Affairs
,
Estonian Ministry of Foreign Affairs

H.E. Mr. Paweł Lewandowski
Undersecretary of State for digital affairs
,
Chancellery of the Prime Minister

Dr. Gift Kallisto Machengete
Director General
,
Postal and Telecommunications Regulatory Authority of Zimbabwe

Director General
,
Federal Office of Communications (OFCOM)

H.E. Mr. Phillemon Mapulane
Deputy Minister of Communications and Digital Technologies
,
Ministry of Communications and Digital Technologies

Vice-Minister of the Economy and Innovation
,
Ministry of the Economy and Innovation of the Republic of Lithuania

H.E. Eng. Kundo Andrea Mathew
Deputy Minister
,
Ministry of Information, Communication and Information Technology

Ms. Patricia Lyn MCCULLAGH
Deputy Permanent Representative
,
Permanent Mission of Canada to the United Nations Office and other international organizations in Geneva

H.E. Eng. Majed Sultan Al Mesmar
Director General
,
Telecommunications and Digital Government Regulatory Authority (TDRA)


Director General
,
Communications Regulatory Agency

The OneGoal Initiative for Governance

CEO African Tech Unicorns - Founder @StartupThoko

Viandes Lafrance (Louis Lafrance et Fils Ltée)

Mr. Rafael Eduardo Muente Schwarz
Chairman of the Board and CEO
,
Organismo Supervisor de Inversión Privada en Telecomunicaciones (OSIPTEL)

Minister of ICT, Postal and Courier Services
,
Minstry of ICT ,Postal and Courier Services

Minister of Technology and Science
,
Ministry of Technology and Science

H.E. Ms. Léocadie Ndacayisaba
Minister
,
Ministre de la Communication, des Technologies de l'Information et des Médias

Basic Internet Foundation

President of the Office of Electronic Communications
,
Office of Electronic Communications (UKE)

Cabinet Secretary (Minister)
,
Ministry of Information, Communication and the Digital Economy

H.E. Prof. Isa Ali Ibrahim Pantami
Minister
,
Federal Ministry of Communications and Digital Economy of Nigeria



Bangladesh NGOs Network for Radio & Communication (BNNRC)

EC MEDICI Framework of Coordination

H.E. Ms. Micaela Sanchez Malcolm
Secretary of Public Innovation
,
Secretariat of Public Innovation of the National Chief of Cabinet of Ministers' Office

State Secretary
,
Federal Ministry for Digital and Transport

Minister for Tech and the Digital Economy
,
Department for Science, Innovation & Technology (DSIT)

Chief Development Officer
,
Malaysian Communications and Multimedia Commission

Vice Minister
,
Ministry of Transport, Communications and Information Technology

Minister of Telecommunications and Information Technology
,
Ministry of Telecommunications and Information Technology

Executive Director
,
Comisión de Regulación de Comunicaciones

Director General
,
Swedish Post and Telecom Authority

H.E. Mr. KAMALIDINI SOUEF
Minister of Posts, Telecommunications and Digital Economy
,
Union of the Comoros

Chair of the Council
,
Communications Regulatory Authority

Vice President, Policy and Regulatory Affairs

H.E. Dr. Emilija Stojmenova Duh
Minister
,
Ministry of Digital Transformation

Director General
,
Malawi Communication Regulatory Authority

H.E. Dr. Mohammed Saud Al Tamimi
Governor
,
Space and Technology Commission (CST)


H.E. Mr. Chaiwut Thanakamanusorn
Minister of Digital Economy and Society
,
Ministry of Digital Economy and Society

Secretary
,
The Department of Information and Communications Technology

Chairman
,
Telecom Regulatory Authority of India

Ambassador for Digital Affairs
,
Ministry for Europe and Foreign Affairs

Co-Founder, President of the Board and CEO

Dr. Caroline Wamala-Larsson
Associate Professor, Director of SPIDER - Swedish Program for ICT in Developing Region

International Chamber of Commerce

H.E. Mr. Matthew Anthony WILSON
Ambassador Extraordinary and Plenipotentiary, Permanent Representative
,
Permanent Mission of Barbados to the United Nations Office and other international organizations in Geneva

General Manager
,
National Communications Authority

Vice Minister
,
Ministry of Internal Affairs and Communications

Minister
,
Ministry of Communication and Information Technology
Iran (Islamic Republic of)
---
High-Level Track Facilitators
---


Conference of Non-Governmental Organizations in Consultative Relationship with the United Nations

Dr. Caterina M. Berbenni-Rehm

Doctor of Psychology, Head of Research and Innovation
Università Telematica Internazionale UNINETTUNO

Ms. Anja Jeanette Haga Engen

Professor of Electronics Engineering

Managing Director Partner360.net

Senior Manager, Public Affairs
IEEE Standards Association

Department of Telecommunication Science, University of Ilorin

Medical anthropologist, lecturer, executive director of the Gender Centre
Geneva Graduate Institute

Dr. Dr. Evelyne A. Tauchnitz
Senior Researcher and Lecturer Institute of Social Ethics ISE
University of Lucerne, Centre for International Governance Innovation (CIGI)