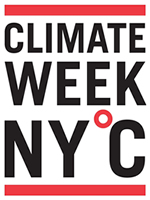 Green Information and Communication Technologies (ICTs) for a Sustainable Future
The International Telecommunication Union (ITU) and the Global e-Sustainability Initiative (GeSI) organized an event on "Green ICT for a sustainable future" which took place on 24 September 2010 from 15.00 to 17.30 hours in New York, United States of America, during Climate Week NYC.
The transition to a 'green' economy poses many challenges, however also opens significant opportunities for economic development in developed and developing countries. Through innovation in low-carbon technologies, countries can capture economic value 'at home' through entrepreneurship, job creation and new venture development.
These development goals can be simultaneously pursued while securing energy independence and mitigating the effects of climate change as developing countries play a crucial role in catalyzing and deploying the clean technology innovations of the future.
This workshop presented a series of case studies (Home energy monitoring kit; HVAC automation system; Eco-driving software solution; Telecommuting; E-health delivery system; Telepresence system) and discussed:
how "green ICT" initiatives and applications, such as smart grids, cloud computing, videoconferencing, e-government and dematerialization of content, can play a major role in reducing CO2 emissions, and ensuring sustainable development and green growth;
how to measure the impact of "green ICT" on climate change and how to standardize a methodology to calculate the impact of ICTs on GHG emissions;
how a standardized methodology, and other initiatives, might assist countries to obtain and make best use of ICTs to address climate change;
how the ICT industry can promote awareness and implementation of "green ICT".