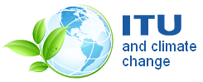 VIRTUAL International Symposium on ICTs and Climate Change
23 September 2009
The impact of ICTs on the environment has been a longstanding concern for the ITU. Since 1947, ITU and its members have adopted several Resolutions on environment in general and on climate change in particular.
Various events on ICTs and Climate Change have been organized by ITU including a series of symposia. In April 2009, ITU-T's Study Group 5 changed its name to reflect a new mandate "Environment and Climate Change".
ITU co-organized with the Korea Communications Commission (KCC) the First VIRTUAL International Symposium on ICTs and Climate Change in Seoul, Korea, on 23 September 2009, hosted by the KCC, supported by the country's Telecommunications Technology Association (TTA). This Symposium offered all the benefits of physical participation but without the environmental costs, launching a new era in conducting events. The event's virtual nature allowed more participation from developing and least developed countries.
The topics discussed include green ICTs to tackle climate change, clean technologies and smart applications, reducing the environmental impact of ICTs and building a green future.
The Symposium was attended by a wide range of organizations including governments, the private sector, research institutes and international organizations. 422 people participated virtually, 191 of them drawn from some 49 countries around the world giving the total of 580 participants. It is estimated that this symposium saved around 600 tons of CO2 emission.
The symposium was transmitted live and the recorded video is available on this page.
More details to follow.
ITU-T Activities on ICT and Climate Change
RELATED INFORMATION
DOCUMENTATION AND REGISTRATION

General Information

Dates: 23 September 2009
Venue: Imperial Palace hotel, Seoul, Korea


Use #VCCKR to send questions or feedback.

Previous Symposia

The ITU Radiocommunication Sector (ITU-R) manages the detailed coordination and recording procedures for space systems and earth stations, which are used for climate data collection and environmental monitoring. [more…]

ITU's Telecommunication Standardization Sector (ITU-T) develops standards that are used, for instance, in promoting energy efficiency, safe disposal and recycling of telecommunication/ICT equipment, and next-generation networks. [more…]

ITU's Telecommunication Development Sector (ITU-D) works on promoting a role for ICTs in the protection of the environment in its e-Environment and e-Sustainability programmes. [more…]

The General Secretariat coordinates our efforts and for example has been actively participating in the work of the UN Chief Executives Board and its subsidiary bodies on developing a unified and collaborative UN strategy to combat climate change, including a matrix on activities of each agency and program. [more…]

WSIS ICT Success Stories highlight some of the ongoing and successful ICT development projects in the field of e-Environment taking place around the world. 0407[more…]

Invitation letters

Programme

Reports

The background report has been revised and prepared by the ITU secretariat for the Symposium on ICT and Climate Change in Quito, Ecuador. New sections highlight the key issues in the region, including deforestation and financing. In addition, the Annex to this report provides an inventory of work underway in ITU on climate change.

Resources on ICTs and Climate Change

Our reference site provides links to external resources: background papers, additional information, statistics, and examples, that cover the positive and negative impact that ICTs have on the climate. [more]

CLIMATE CHANGE NEWSLOG
[more...]