On the spotlight - Featured ITU activities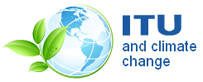 New ITU website on ICTs, the environment and climate change.
We invite you to access our new homepage on ITU's activities in the area of ICTs and climate change. Do you like our new design? Send us your feeback to climate@itu.int

Click here to access our new site




New ITU publications on ICTs, sustainability and climate change

ITU-T released during the 2nd ITU Green Standards Week a new series of reports on ICTs, sustainability and climate change. The reports cover issues such as smart grids, using submarine telecommunications cables for ocean and climate monitoring and disaster warning, using ICTs to support climate change adaptation and mitigation and adaptation in Ghana, among other issues.

Click here to access and download these reports for free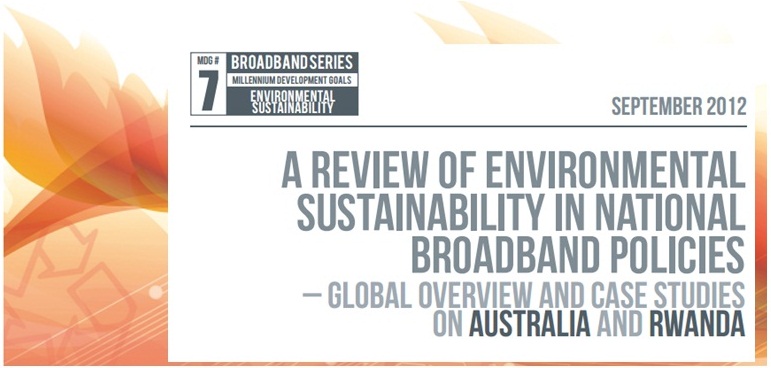 This case study looks at the potential and existing contributions broadband is making towards the achievement of MDG7, which targets environmental sustainability. It presents a global overview of the inclusion of references to environmental sustainability in national broadband policies. Of the 193 countries reviewed, 119 were found to have a broadband policy, 34 per cent of which contained a reference to environmental sustainability. The final two chapters of the study review two country cases: Australia and Rwanda.

Click here to download the report and find out more about the role of broadband in accelerating the Millenium Development Goals (MDGs)


ITU and Climate change

"

Climate Change is a global challenge that the world cannot afford to lose

"


Dr Hamadoun I. Touré,
ITU Secretary-General

Information and Communication Technologies (ICTs), such as satellites, mobile phones or the Internet, play a key role to address the major challenges related with climate change and sustainable development. ICTs are fundamental to monitor climate change, mitigate and adapt to its effects and assist in the transition towards a green economy.

By raising awareness of the role of ICTs, ITU is promoting transformative solutions that can ensure a sustainable future.

Find more about ITU´s vision and mission in the area of climate change.



ITU together with UNEP supports the
.