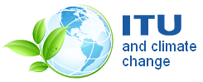 ITU Symposium on ICTs and Climate Change
Climate change is a leading global concern and ITU has joined in the efforts of the United Nations to "Deliver as One" in addressing climate change. As stated by UN Secretary-General, Ban Ki-moon "ITU is one of the most important stakeholders in terms of climate change".
In 2007 at the UN Climate Change Conference in Bali, Indonesia and at the 2008 Conference in Poznan, Poland, ITU highlighted the role of ICTs as an important enabling tool to reduce global greenhouse gas emissions across all sectors.
Resolution 73 of The World Telecommunication Standardization Assembly (WTSA-08, Johannesburg) recognizes the crucial role of ICTs in addressing climate change and resolves to continue and further develop the ITU-T work programme in this area as a high priority and in close collaboration with the other two ITU Sectors. In addition, Resolution 73 instructs the Director of the Telecommunication Standardization Bureau to organize related events in developing countries, to raise awareness and identify their needs in this domain, as they are the most vulnerable countries affected by climate change.
The Third Symposium on ICTs and Climate Change held in Quito, Ecuador on 8-10 July 2009, hosted by Centro Internacional de Investigación Científica en Telecomunicaciones, Tecnologías de la Información y las Comunicaciones (CITIC) Ecuador. This was the first ITU Symposium on Climate Change to take place in a developing country and the first in the Americas. The Symposium aimed to highlight key issues with respect to climate change that are most relevant to developing countries as well as to the Americas, including deforestation, access to ICTs and financing of strategies to adapt to and mitigate climate change. The updated ITU background paper, prepared specially for the Symposium, addressed these and other issues. You may find the Report of the Chairman and the Meeting Summary on this page. Speaker presentations can be found on the programme.
The Quito Symposium endorsed a set of Conclusions on ICTs and Climate change in the Americas (En | Es). The Symposium was attended by approximately 300 participants, plus further remote participation, drawn from some 20 Member States, a wide range of organizations including governments, the private sector, research institutes and international organizations.
In 2008, successful symposia on ICTs and Climate Change were held in Kyoto and London.
ITU-T Activities on ICT and Climate Change
RELATED INFORMATION
DOCUMENTATION AND REGISTRATION

General Information

Previous Symposia

The ITU Radiocommunication Sector (ITU-R) manages the detailed coordination and recording procedures for space systems and earth stations, which are used for climate data collection and environmental monitoring. [more…]

ITU's Telecommunication Standardization Sector (ITU-T) develops standards that are used, for instance, in promoting energy efficiency, safe disposal and recycling of telecommunication/ICT equipment, and next-generation networks. [more…]

ITU's Telecommunication Development Sector (ITU-D) works on promoting a role for ICTs in the protection of the environment in its e-Environment and e-Sustainability programmes. [more…]

The General Secretariat coordinates our efforts and for example has been actively participating in the work of the UN Chief Executives Board and its subsidiary bodies on developing a unified and collaborative UN strategy to combat climate change, including a matrix on activities of each agency and program. [more…]

WSIS ICT Success Stories highlight some of the ongoing and successful ICT development projects in the field of e-Environment taking place around the world. 0407[more…]

Invitation letters

Final Programme and presentations

Reports

The background report has been revised and prepared by the ITU secretariat for the Symposium on ICT and Climate Change in Quito, Ecuador. New sections highlight the key issues in the region, including deforestation and financing. In addition, the Annex to this report provides an inventory of work underway in ITU on climate change.

Meeting Summary
ITU Background Report

Resources on ICTs and Climate Change

Our reference site provides links to external resources: background papers, additional information, statistics, and examples, that cover the positive and negative impact that ICTs have on the climate. [more]

Sponsor:
Hosted by:
CLIMATE CHANGE NEWSLOG
[more...]