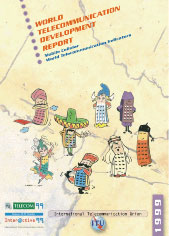 Executive Summary
Supplying Mobile
Cellular networks have evolved in both functionality and utility, from so-called first-generation analogue networks to today's second-generation digital systems. But thus far there has not been a unique global standard. The existing cellular landscape consists of a mix of analogue and digital systems with different networks often co-existing in the same country (Figure 3).
The ITU, one of whose roles is to define global telecommunication standards, did not issue technical recommendations for first or second-generation mobile systems. The impressive growth of mobile cellular, however, has meant that the ITU has had to become actively involved in developing third-generation (3G) standards.
In order to avoid the higher costs for consumers associated with multiple systems, the ITU goal is to achieve a global standard for 3G through an initiative called IMT-2000, or International Mobile Telecommunications-2000. The concept of a family of standards has been adopted. It would bring different types of networks together—macrocell, microcell and picocell terrestrial cellular systems; cordless systems; wireless access systems; and satellite systems—enabling a truly global service soon after the year 2000. There are three distinctive characteristics of IMT-2000:
seamless global roaming which enables users to move across borders and to make and receive calls while using the same number and handset;

higher transmission rates offering a minimum speed of 2 Mbit/s for users who are stationary or moving at walking speed, and 348 kbit/s in a moving vehicle; and

standard service delivery, for instance, via fixed, mobile and satellite networks.
3G services are expected to be launched in Japan in 2001, in Europe in 2002 and in other countries shortly afterwards.
The high cost of building 3G networks may mean that full coverage will not be available for several years, so the first 3G services are likely to be provided in markets with a high concentration of potential users such as large cities and their immediate surroundings. Complete coverage may not be needed straight away, as in low traffic areas existing enhanced services will suffice for most purposes. 3G may develop more slowly in those countries that already have well-established second generation networks. But the benefits of 3G in enabling true mobile multimedia services should be very attractive, especially where spectrum is constrained or there is a large Internet user base. Operators will seek first to amortise their investment in existing networks and build up new capacity step-by-step. Therefore, 3G will be an evolutionary rather than a revolutionary process.
In order to avoid the higher costs for consumers associated with multiple systems, the ITU goal is to achieve a global standard for 3G through an initiative called IMT-2000, or International Mobile Telecommuni-cations-2000