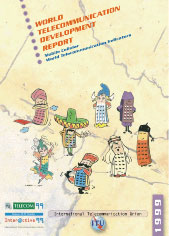 Executive Summary
A mobile future
Mobile has emerged as a mini-industry in its own right with 1998 service revenues of around US$ 155 billion (see Figure 9). At current trends, the value of mobile revenue will overtake total fixed-line revenue worldwide (international and domestic) in about the year 2004. Indeed, revenues from fixed-line telephone service have been in decline globally since around 1996. Were it not for revenues from mobile, the telecommunications sector would be shrinking rather than growing.
As the world enters a new millennium, it is no longer a question of if mobile cellular subscribers will overtake fixed telephone lines, but when. In poor countries, mobile is being used to rapidly install badly needed telecommunications infrastructure. In rich countries, the functionality of mobile appeals to users long tied to their fixed telephones. The number of new mobile subscribers has surpassed new fixed ones every year since 1996. In 1998 there were almost twice as many new mobile subscribers as fixed ones. Sometime, around the middle of the next decade, the number of mobile telephone subscribers will exceed fixed-lines. The crossover point could occur much sooner if mobile prices—which are currently considerably above costs—come down. Growth will be further boosted if the new IMT-2000 global mobile standard—to be introduced commercially in some countries in just a few years time—takes off. The success of mobile is something to ponder. It will have taken the mobile industry a little over two decades to reach one billion subscribers; fixed networks have already taken more than 130 years to reach the same number.
The growth of the mobile sector is sometimes overshadowed by the success of the Internet. While the growth prospects for the Internet should not be underestimated, the fact is that the mobile market is much bigger. The long-term future for the mobile sector is likely to be closely tied to that of the Internet. Third-generation (3G) mobile systems will enable Internet access at high speeds. In economies where mobile systems are well-advanced, such as Finland, non-voice services such as short message service (SMS) already account for a significant contribution to total revenue. These services, which are limited in message length, will soon seem as primitive as the telegraph seems today. The demand for mobile access to data services, especially the Internet, is potentially huge and 3G will create a virtually new industry. The future is bright, the future is mobile.
As the world enters a new millennuim, it is no longer a question of if mobile cellular subscribers will overtake fixed telephone lines, but when