---
WTSA-04 Documents
---
Recently posted | Search Documents |



WTSA-04 Documents are also available in the Informal FTP area.


Documents restricted to TIES users [ITU-T]
Consistent with the normal practice governing ITU-T documents, participants are requested to submit any contributions at least two months in advance of the opening of the Assembly, i.e. by 4 August 2004.
Contributions should be addressed to the Director, Telecommunication Standardization Bureau.
Participants are encouraged to submit contributions by electronic mail to the following address: tsbedh@itu.int.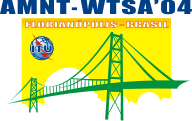 Florianópolis, Brazil
5-14 October 2004