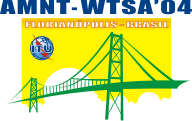 The World Telecommunication Standardization Assembly (WTSA) is held every four years by the International Telecommunication Union (ITU), a specialized agency of the United Nations, to fulfil its mandate to co-ordinate the development of global standards for telecommunications networks and services.
Following Brazil's offer to host the WTSA-2004, the Assembly is being held in Florianópolis from 5 to 14 October 2004.
The International Telecommunication Union is unique among international organizations in that it was founded on the principle of co-operation between governments and the private sector. With a membership encompassing telecommunication policy-makers and regulators, network operators, equipment manufacturers, hardware and software developers, regional standards-making organizations and financing institutions, ITU's activities, policies and it provides a forum in which the Union's membership can collectively work towards the improvement and rational use of telecommunications of all kinds.