Maldives Case Study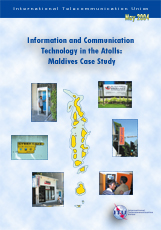 The Republic of the Maldives, a Small Island Developing State (SIDS), consists of some 1'200 widely dispersed islands that are spread over 820 kilometers from North to South. Given the country's unique geographical characteristics, it is a noteworthy that the country achieved universal access in 1999. By then the partially private incumbent, Dhiraagu, was able to provide telephone service to all inhabited islands.
Mobile cellular subscribers surpassed fixed telephone lines in 2002 and Dhiraagu is focusing investments on the rapidly growing mobile segment, including plans to launch GPRS. Since much time is spent on boats, mobile services are more useful and mobile coverage is widely available in sea waters. Statistics also show that a growing number of mobile users access data services over their mobiles phones. Thus the development of mobile data networks appears to be a promising solution for enhancing Internet access.
Liberalization in the telecommunication sector has been slow in the Maldives and only the Internet market has been opened to a second Internet Service Provider. The country, which is classified as a Least Developed Country (LDC), does not have a telecommunication law or a separate regulatory agency. There are, however, a number of ongoing international development projects in this area, including an e-government project by the Asian Development Bank. Another pressing need in the Maldives is in the areas of human resources. While primary and secondary school enrolment are high, less than one percent of the population has a tertiary degree
A mission to the Maldives was carried out from 28 May to 3 June 2003, involving Michael Minges and Vanessa Gray. The mission and interviews were coordinated with the Ministry of Communications, Science and Technology.