Presentation of the WSIS Prizes 2021 Champions
---
WSIS
Session 441
12:00–14:00 (UTC+02:00),
Wednesday, 19 May 2021
WSIS Prizes
Special session celebrating WSIS Prizes 2021 Champion stories from around the world
From the beginning, the goal of the WSIS Prizes, as the integral part of the WSIS Stocktaking, has remained the same: to help communities everywhere replicate examples of good and sustainable use of ICTs ─ and to encourage everyone to make good and timely use of the WSIS Stocktaking database introduced in 2004.
Since November 2020, the WSIS Stocktaking started collecting projects and activities, especially through its call to the ICT community for the WSIS Prizes annual awards, and has received close to 1,800 entries. This remarkable achievement also includes the submissions of those who have shared their stories on how ICTs are assisting stakeholders in their everyday life and work amidst the coronavirus pandemic.
This session will will pay particular attention to those 72 Champion projects of the WSIS Prizes 2021 contest, which emerged as the most voted projects following the Online Voting phase in March, with more than 1,3 million votes cast. These projects have been announced as the Champions among the 360 nominated projects from 1,270 submitted projects this year. We invite you to join this session and learn from our Champions' brief presentations how ICTs are driving development for all as we are entering the last decade to achieve the United Nations Sustainable Development Goals.
The WSIS Forum is the leading multi-stakeholder ICT for development event in the world. This year's virtual format scaled it to an even wider community, giving our WSIS Prizes Champions and Winners an opportunity to tell their story to more people than ever.
WSIS Prizes 2021 Champions:
C1. The role of governments and all stakeholders in the promotion of ICTs for development

APP EDUS
Caja Costarricense del Seguro Social
Costa Rica

All.Online
Data Economy Russia
Russian Federation

Innovadoras TIC – ITC Innovative Women
Fundación Cibervoluntarios
Spain

Robotics, Programming and Rights for Girls
RightsTech Women
Switzerland

C2. Information and communication infrastructure: an essential foundation for the Information Society

Internet of Light
Tsinghua University
China

Teleconomy from Top-up and Get Rewarded Ltd.
Teleconomy from Top-up and Get Reward
Nigeria

"AFAQ" initiative to provide broadband service to remote villages
Telecommunication Regulatory Authority
Oman

Starlink
SpaceX
United States of America

C3. Access to information and Knowledge

Broadband Connectivity to Local Governments at District Level and Hospitals in Rural Afghanistan
Afghanistan Telecom Regulatory Authority
Afghanistan

Empowering women with disabilities through market-driven ICT training and accessible information on SRHR
YPSA (Young Power in Social Action)
Bangladesh

Community Network for Education
UMAYUX
Ecuador

Connecting the unconnected and empowering underprivileged girls and children with disabilities
Nokia
Finland

C4. Capacity Building

Huawei DigiTruck in Kenya
Huawei Technologies Co Ltd
China

Electronic agricultural maps
AgroInformAsia
Kyrgyzstan

Enabling Teachers on Remote Teaching and Learning in the time of Pandemic
Department of Information and Communications Technology
Philippines

The Women Empowerment Program in Technology
Ministry of Communication and Information Technology
Saudi Arabia

C5. Building Confidence and Security in the Use of ICTs

Security Awareness Training Platforms
El Djazaïr Information Technology
Algeria

Digital Citizen
Facebook Brazil
Brazil

Advanced Persistent Threat (APT) Attack Detection and Prevention
ZTE Corporation
China

NATIONAL CYBER SECURITY COMPETITION
TANZANIA COMMUNICATIONS REGULATORY AUTHORITY
United Republic of Tanzania

C6. Enabling environment

Career Development for Mothers with Cerebral Palsy Children in Nigeria
Special Needs Initiative for Growth (Initiative for National Growth Africa)
Nigeria

National Incubation Centers
Ignite - National Technology Fund, Ministry of IT & Telecom
Pakistan

REINICIA (Restart): The Digital Programme for Business Renewals
Andalucia Emprende, Fundacion Publica Andaluza
Spain

Mohammed Bin Rashid Innovation Fund
Ministry of Finance
United Arab Emirates

C7. ICT Applications: e-government
Jakarta Kini
Jakarta Smart City
Indonesia

National Registration and Identification System (NRIS) of Malawi
United Nations Development Program UNDP
Malawi

Citizen's Account
Ministry of Human Resources and Social Development
Saudi Arabia

COVID-19 vaccination Information System
Office for Information Technologies and eGovernment
Serbia

C7. ICT Applications: e-business

Greenplan - Dynamic Tour Optimization
Greenplan GmbH
Germany

Linkap Integrated IoT Solution
Linkap (Rahbaran Internet Ashya Co)
Iran (Islamic Republic of)

Digital & Social Media Marketing for Women-led Small Enterprises
National Computer Board
Mauritius

Local Food Nodes
Local Food Nodes Röstånga ek Förening.
Sweden

C7. ICT Applications: e-learning

I learn the same (Aprendo Igual)
University of La Punta
Argentina

AR Apps during COVID-19 pandemic for Countrywide Elementary School Students
Iran University of Science and Technology
Iran (Islamic Republic of)

Effects of employing an interactive educational website in developing the athletic strength of 6th grade female students in Gaza
Sumaya warrior Maghari
Palestine

Turkcell Zeka Gucu / Turkcell Whiz Kids
Turkcell
Turkey

C7. ICT Applications: e-health

Amakomaya" (Mother's Love)
Yagiten Pvt. Ltd
Nepal (Republic of)

Tarassud Platform - Oman
Ministry of Health
Oman

Smart Assistant for Medical Professionals
SBERmedAI
Russian Federation

Tawakkalna
Saudi Data and AI Authority
Saudi Arabia

C7. ICT Applications: e-employment

Online services: DAMANCOM web space
National Fund for the Social Security of the Self-Employed
Algeria

Woman DNS Academy
Chapitre Bénin de l'Internet Society
Benin

Pedius Work Inclusion Solution
Pedius
Italy

Our Actions Against Coronavirus (COVID-19)
General Directorate of Ministry of Justice of Turkey Government
Turkey

C7. ICT Applications: e-environment
4G/5G collaborative intelligent energy-saving management
China Unicom Research Institute
China

Digital Approcahes to Risilience and Adaptation in Jamaica (DARAJA Project
Caribbean Climate Innovation Center
Jamaica

FIE20: Groundwater and meteo sensors
Baltic Open Solutions Center, Ltd.
Latvia

Carbon Footprint Calculator
EPAM Systems
United States of America

C7. ICT Applications: e-agriculture

Fresh.Land - Straight from the Farm
Fresh.Land
Denmark

Real-time digital food supply chain auditing, powered by blockchain
Connecting Food
France

Supervision Technology Digital Land Monitoring
Joint Stock Company "Information and Accounting Center"
Kazakhstan

AI powered, fully automated food waste monitor
Orbisk
Netherlands

C7. ICT Applications: e-science

COVID-19 Knowledge and Data Hub
Institute of Geographical Sciences and Natural Resources Research (IGSNRR), Chinese Academy of Sciences
China

Hive-Tech
3Bee Srl
Italy

Descriptive Paragraph Facility in Virtual Reality Rehabilitation and Biofeedback System
Multimedia University
Malaysia

Abu Dhabi Data
Abu Dhabi Digital Authority
United Arab Emirates

C8. Cultural diversity and identity, linguistic diversity and local content

The Techgirls Competition
The Tech Girls Movement Foundation
Australia

COVID-19: Education through Community Radio in Bangladesh
Bangladesh NGOs Network for Radio and Communication
Bangladesh

Saksham Project
Saksham Trust (and its subsidiary Saktek Foundation)
India

Arab Culture and Arts Network
Tiro Association for Arts
Lebanon

C9. Media

Exhibition of the Era of 5G and the Internet of Things
China Branch of BRICS Institute of Future Networks
China

Qeemle Magazine
Qeemle Magazine
India

Talkshow Literasi Teknologi Informasi Komunikasi Suara Madiun (Voice Of Madiun Literacy ICT Talkshow )
Relawan Teknologi Informasi Komunikasi Madiun
Indonesia

Culture.ru
Ministry of Culture
Russian Federation

C10. Ethical dimensions of the Information Society
Understanding the Needs of Refugees Through Harnessing Big Data
Central Administration of Statistics
Lebanon

Mobile App for the Elimination of Gender Based Violence
Prime Minister's Office
Mauritius

Sustainability Digital Platform
STC
Saudi Arabia

Public, Private, People, Partnership Digital Innovation Hub
Faculty of electrical engineering, University of Ljubljana
Slovenia

C11. International and regional cooperation

Regional Digital Market strategy
Ministry of Foreign Relations of Chile
Chile

ICT for Comprehensive Community Development in Agriculture
Ministry of Communications and Information Technology – Egypt
Egypt

Women in Innovation Network
Europe Israel Economic & Innovation Forum
Finland

Remote Monitoring of funding using a blockchain Trusted technology
UEFA Foundation for Children
Switzerland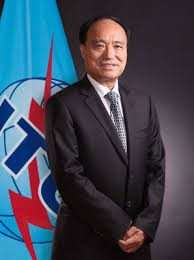 Mr. Houlin Zhao
Secretary-General
International Telecommunication Union ITU
---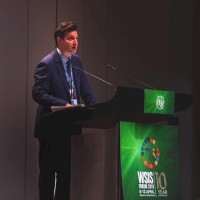 Mr. Vladimir Stankovic
Program Officer
International Telecommunication Union ITU
Moderator
---
WSIS Prizes 2021 Champions
WSIS
---
Topics
---
5G Technology
Artificial Intelligence
Big Data
Blockchain
Cloud Computing
Cultural Diversity
Cybersecurity
Digital Divide
Digital Economy
Digital Inclusion
Digital Transformation
Education
Environment
Ethics
Health
Infrastructure
Machine Learning
Smart Cities
WSIS Action Lines
---
C1. The role of governments and all stakeholders in the promotion of ICTs for development

C2. Information and communication infrastructure

C3. Access to information and knowledge

C4. Capacity building

C5. Building confidence and security in use of ICTs

C6. Enabling environment

C7. ICT applications: benefits in all aspects of life — E-government

C7. ICT applications: benefits in all aspects of life — E-business

C7. ICT applications: benefits in all aspects of life — E-learning

C7. ICT applications: benefits in all aspects of life — E-health

C7. ICT applications: benefits in all aspects of life — E-employment

C7. ICT applications: benefits in all aspects of life — E-environment

C7. ICT applications: benefits in all aspects of life — E-agriculture

C7. ICT applications: benefits in all aspects of life — E-science

C8. Cultural diversity and identity, linguistic diversity and local content

C9. Media

C10. Ethical dimensions of the Information Society

C11. International and regional cooperation
Sustainable Development Goals
---
Goal 1: End poverty in all its forms everywhere

Goal 2: End hunger, achieve food security and improved nutrition and promote sustainable agriculture

Goal 3: Ensure healthy lives and promote well-being for all

Goal 4: Ensure inclusive and equitable quality education and promote lifelong learning opportunities for all

Goal 5: Achieve gender equality and empower all women and girls

Goal 6: Ensure access to water and sanitation for all

Goal 7: Ensure access to affordable, reliable, sustainable and modern energy for all

Goal 8: Promote inclusive and sustainable economic growth, employment and decent work for all

Goal 9: Build resilient infrastructure, promote sustainable industrialization and foster innovation

Goal 10: Reduce inequality within and among countries

Goal 11: Make cities inclusive, safe, resilient and sustainable

Goal 12: Ensure sustainable consumption and production patterns

Goal 13: Take urgent action to combat climate change and its impacts

Goal 14: Conserve and sustainably use the oceans, seas and marine resources

Goal 15: Sustainably manage forests, combat desertification, halt and reverse land degradation, halt biodiversity loss

Goal 16: Promote just, peaceful and inclusive societies

Goal 17: Revitalize the global partnership for sustainable development