International Mobile Telecommunications-Advanced (IMT-Advanced) systems are mobile systems that include the new capabilities of IMT that go beyond those of IMT-2000. Such systems provide access to a wide range of telecommunication services including advanced mobile services, supported by mobile and fixed networks, which are increasingly packet-based.

IMT-Advanced systems support low to high mobility applications and a wide range of data rates in accordance with user and service demands in multiple user environments. IMT Advanced also has capabilities for high quality multimedia applications within a wide range of services and platforms, providing a significant improvement in performance and quality of service.

For the last 20 years, ITU has been coordinating efforts of government and industry and private sector in the development of a global broadband multimedia international mobile telecommunication system, known as IMT. Since 2000, the world has seen the introduction of the first family of standards derived from the IMT concept. ITU estimates that worldwide mobile cellular subscribers are likely to reach the 4 billion mark before the end of this year of which IMT systems technology will constitute a substantial part considering that already in May 2007, there were more than 1 billion IMT-2000 subscribers in the world!
During the ITU World Radiocommunication Conference (WRC-07) in Geneva last November, additional globally harmonized spectrum was identified for use by IMT, which represents an important step in the worldwide development of IMT systems, allowing for increased capacity and coverage requirements.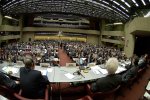 A view from the floor during the first plenary session of WRC-07
Source: ITU/J.M. Ferré