3G wireless technologies are transforming rural communities across Asia

Qualcomm
"In a world with large technological disparities between developing and developed countries and urban and rural communities, 3G wireless voice and data communications are proving to be technologies that can rapidly bridge this digital divide in Asia."
Jing Wang, Qualcomm
Third-generation, or 3G, wireless communication networks are becoming critical infrastructure in developing countries across Asia, and these networks are now a major factor in driving substantial economic growth and socio-economic progress. Studies show that a one percentage point increase in mobile penetration in developing countries is correlated with an increase of 4.7 per cent of average per capita income. Also, a one percentage point increase in Internet penetration in developing countries is correlated with an increase of 10.5 per cent of average per capita income, according to Telecommunications Management Group, Inc.. 3G wireless communications have become particularly significant for rural communities throughout the region and are having a positive impact in empowering them to compete.
As industry leaders, we know that we can significantly contribute to the development of rural communities by joining forces with other organizations that are also committed to making a difference in the world. Together we can create sustainable projects that will empower these communities to enjoy an improved quality of life.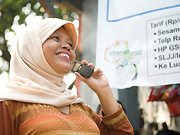 Qualcomm
To fulfil that vision, in 2005 Qualcomm created the Wireless Reach™ initiative, through which we collaborate with creative and committed partnerships from both the public and private sectors to bring the benefits of 3G to underserved communities in Asia and across the world. Our Wireless Reach programmes are designed to facilitate access to voice and high-speed data networks, to enable the improved delivery of Internet connectivity and services such as health care and education.
We believe that 3G is the solution to creating a connected world where nobody is left behind. The following are examples of some of the programmes to which we have contributed.
Stimulating entrepreneurship in rural Indonesia
In Neglasari, a small village south of Bogor on the island of Java in Indonesia, Mrs Halimah serves her community as a Village Phone Operator at her small, local grocery store. Members of the community recognize Mrs Halimah and trust her to give them good mobile phone call rates. Previously, villagers might have had to travel 10 km or more to place an urgent phone call to relatives, but now they can simply make a trip to Mrs Halimah's store and instantly and affordably be connected to their loved ones.
Mrs Halimah's important role in connecting her neighbours with their families is part of another Wireless Reach project that has contributed to the globally known Village Phone Programme of Grameen Foundation. Mrs Halimah is one of a growing network of Village Phone Operators who are able to purchase a "business in a box" consisting of a wireless 3G CDMA-based phone and charger, marketing materials, tariff posters, business cards and training materials. These entrepreneurs can operate their businesses in rural areas where telecommunication services did not previously exist, renting the use of their phones within their communities on a per-call basis.
As a result of this initiative, these rural communities are no longer isolated from easy access to communication and information, and, for the first time, are learning the tangible benefits of being connected to the world outside their villages. From communication with relatives, to updates on commodity prices, to political news, and to knowledge of new business opportunities, the information that the villagers now have available to them is having a very real impact on their lives.
This new connectivity not only empowers underserved communities in rural Indonesia by providing them with access to affordable telecommunications and information services, but it also enables Indonesia's rural entrepreneurs to build self-sustaining businesses that are instrumental in the socio-economic development of their wider communities.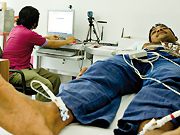 Qualcomm
Improving rural health care in Thailand
In the southern province of Phang Nga, in Thailand, beautiful limestone rock formations jut out of the Andaman Sea. There, people have built floating villages, creating the habitable islands of Koh Panyee and Koh Yao Yai. But this beautiful and peaceful scene can easily become the backdrop for a difficult situation when villagers from this remote region face health emergencies that require assistance from the closest health clinic, which is at least 45 minutes away by boat.
The challenge of providing adequate health care to remote and rural areas of the population is an ideal example of how 3G technologies have proved to be effective. Koh Panyee and Koh Yao Yai have been equipped with EV-DO high-speed wireless services, in collaboration with Thailand's CAT Telecom. Two remote health clinics are now connected to the mainland hospital with telemedicine equipment, by which staff can send diagnostic data in graphs and images.
In northern Thailand, nestled in a deep valley hemmed in by high mountain ranges and isolated from the outside world, Mae Hong Son province now has easier and faster access to medical services through 3G wireless broadband, thanks to another project developed by Wireless Reach. As part of this programme, several industry leaders worked in partnership to contribute to the development of the equipment and services that enable more effective communication between smaller clinics and more established ones, allowing an exchange of the latest medical intelligence and patient information.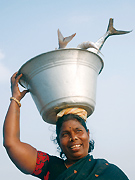 Qualcomm
Providing real-time information to fishermen in India
Real-time access to information is also of critical importance in improving public safety around the world. 3G wireless technology offers solutions that can facilitate the transmission of urgent data to authorities and hasten the delivery of important messages and information to the public.
In India, for instance, we have collaborated with partners from the technology and telecommunication sectors, as well as with non-governmental organizations (NGO), on the Fisher Friend project. This is a user-friendly application that provides vital, real-time information to fishing communities at any time, anywhere, at the press of a button. Fishermen can now receive real-time access to weather and wind information, emergency alerts, and local market prices for fish. They can send a single-button request from their mobile phones to retrieve information and vital updates on opportunities and trading information, in their local language, from anywhere in the country.
This mobile application has improved the lives of members of fishing communities across India, providing them with the market information that can enable them to thrive in their businesses. It also allows them to learn about research and government policy changes that can have an impact on their communities, and most importantly, find urgent weather information that could save their lives in rough seas.
Connectivity and partnerships are key to bridging the digital divide
Through its Wireless Reach initiative, Qualcomm has succeeded in making a real difference in the lives of those in impoverished communities in Asia and around the globe. Connectivity has been the crucial element driving this change.
From the most basic access to news and information on market prices, to the life-saving, urgent exchange of data between rural and urban health care providers, communication is the crucial building block that previously underserved communities need in order to learn, stimulate economic growth, and enhance public health and safety. Revolutionary 3G wireless technology has made this possible, and it is clear that it will continue to play an integral role in the development of communities and economies throughout Asia and the rest of the developing world.
The initiative is a good example of how industry partnerships can improve socio-economic conditions and empower people in developing countries. There is a substantial opportunity for industry leaders to work with other partners and governments to extend 3G infrastructure into their rural and remote communities to help bridge the digital divide.