ITU-T Expert Group to Review the ITRs
PP-06 Decisions on review of the International Telecommunication Regulations and subsequent actions

The ITU Antalya Plenipotentiary Conference, after considering a number of input documents from Member States, adopted Resolution 146, which resolved that a review of the International Telecommunication Regulations should be carried out. The Terms of Reference of the Group can be found here.

It resolved that ITU-T should carry out a review of the ITRs, engaging with the other Sectors as may be required, with ITU-T as the focal point, and that the fourth World Telecommunication Policy Forum (WTPF) should consider emerging telecommunications policy and regulatory issues, with respect to international telecommunication networks and services, for the purpose of understanding them and possibly developing opinions as appropriate.

Resolution 146 instructs the Council to consider the reports on the above-mentioned matters, to take actions as appropriate, and to adopt the agenda and fix the dates of a World Conference on International Telecommunications (WCIT) by 2011.

It also invites the membership to contribute to the review of the ITRs and to the preparatory process of WCIT.

Pursuant to Resolution 146, and to discussions that took place in ITU-T Study Groups 2 and 3 and in the Telecommunication Standardization Advisory Group, the Director of TSB has created an expert group to review the ITRs, see TSB Circular 146.

Any comments or contributions to the work should be sent to the ITR secretariat at tsbitr-eg@itu.int. The template for contributions can be found here.
Meetings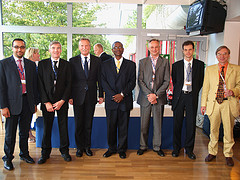 ITU-T Expert Group to review the International Telecommunication Regulations (ITRs)
Fourth meeting, 2-5 June 2009
Geneva, Switzerland
Previous Work on the ITRs
Other Information
Access restricted to TIES account holders.