Joint ITU-UNEP Basel Convention Session on E-waste: Challenges, Solutions and Benefits - WSIS Forum 2012
Geneva, Switzerland, 16 May 2012
Contact Cristina Bueti (ITU), Matthias Kern and Tatiana Terekhova(UNEP): greenstandard@itu.int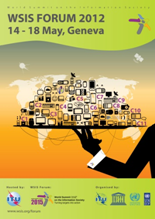 Introduction
Following ICT expansion, the consumption of electrical and electronic equipment (EEE) is increasing rapidly throughout the globe. This has led to corresponding increases in volumes of e-waste. In developing countries high volumes of e-waste, together with the absence or poor environmentally sound management systems, have manifold impacts on the environment, local communities and the economic system.

A Joint ITU-UNEP Basel Convention Session on "E-waste: Challenges, Solutions and Benefits" took place at ILO Headquarters, Geneva, Switzerland, on 16 May 2012 from 09:00 hours to 10:45 hours.

This Session was organized in context of the WSIS Forum and WSIS Action Line C7, e-environment. This Session was followed by a Session on "Climate Change Monitoring and Disaster Risk Reduction, organized by ITU and WMO that took place from 11:00 to 12:45 hours. In addition, a High Level Debate on "Advancing the Green ICT Agenda" will take place on 15 May from 14:00 to 16:00 hours.
Objectives
The session provided an overview of best standardization practices on e-waste and presented the results of the ITU-UNU-UNEP-StEP-CEDARE Survey on e-waste. The panelists discussed how environmentally sound management of e-waste poses environment and health related challenges, but also provides opportunities to create green jobs as well as economic incentives for recovering value from redundant, excessive or end-of-life ICT. Socio-economic and health aspects of e-waste management as well as the linkages between the environmentally sound recycling of e-waste and precious and rare earth metals were proposed to be featured in this Session.
Target Audience
Policy makers and Regulators
ICT Industry
Civil Society
Academia
Programme – 9.00 to 10.45 hours
Moderator:
Flavio Cucchietti, Chairman, Energy Efficiency Working Group of GeSI

Panelists:


Laura Reyes, Business Development Manager, Datec Technologies Ltd

Cristina Bueti, Programme Coordinator on ICTs and Climate Change, ITU

David Seligson, Sectoral Specialist on Manufacturing, ILO

Tatiana Terekhova, Programme Officer, UNEP/Secretariat of the Basel Convention

Remote participation was provided
RELATED INFORMATION
DOCUMENTATION and REGISTRATION

General Information

Related Topics, Study Groups, Organizations

Registration and Programme





Organized by:

CLIMATE CHANGE NEWSLOG
[more...]