Asia-Pacific is also becoming a major player in the Internet scene. Half of the top ten Internet markets are in the region (see Figure 2) and, after North America, Asia-Pacific has the highest number of Internauts (around 70 million at the beginning of the year 2000).

The region's traditional telecom operators are also leading ISPs in most economies (among the top ten operators, all but one are also ISPs). In selected markets, their ISP market share ranges from around one quarter to over half. Though pure Internet access revenues are still low, around two per cent on average, they are rising. In addition, Public Telecommunication Operators are also earning revenue from the demand for high speed lines, advertising and e-commerce transaction fees.

Figure 2: World's top Internet markets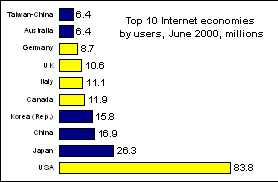 Source: ITU adapted from national statistics, e-Ratings and MMXI.
Overall, the top 20 Public Telecommunication Operators in the region generated revenue of more than US$ 200 billion in 1999, an increase of 10 per cent over the previous year and an increase, in US dollar terms, of 35 per cent since 1996 (see Table 1).
In addition to the market overview and analysis, this report also presents the latest available comparative telecommunication indicators for the region as well as a directory of the region's service providers, policy-makers and regulatory agencies. This book should become an indispensable guide for those looking to invest in the region as well as for those trying to make sense of the daily-changing trends in the market.
Table 1: Top 20 Asia Pacific Public Telecommunication Operators
Ranked by 1999 Revenue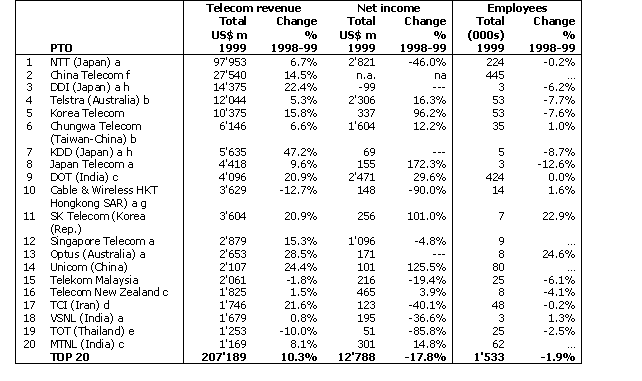 Note: Converted to US$ by operator supplied exchange rates or annual average rate.
a. Year beginning 1 April 1999.
b. Year ending 30 June 1999.
c. Year ending 31 March 1999.
d. Year ending 21 March 1999.
e. Year ending 30 September 1999.
f. Refers to China Telecom and China Mobile.
g. Acquired by Pacific Century CyberWorks in August 2000.
h. KDD, DDI and a Japanese cellular operator, IDO, merged their activities to form KDDI on 1st October 2000.

Source: ITU Public Telecommunication Operators Database.