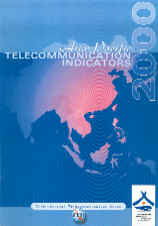 Asia-Pacific Telecommunication Indicators
To coincide with the launch of ITU TELECOM Asia 2000, the ITU has published the 4th edition of Asia-Pacific Telecommunication Indicators.
When the first edition came out in 1993, the Asia-Pacific region accounted for around one-quarter of the world's fixed-telephone lines and around one-sixth of mobile users. Now, at the dawning of a new millennium, the Asia-Pacific region accounts for one-third of the world market. By the end of this decade, two out of every three new telephones and mobilephones will be sold to an Asian.
In this new edition, we focus on three themes that have dominated the telecommunications landscape in the closing years of the 20th Century: the liberalization of telecommunication markets, the emergence of wireless communications to the point where mobilephone users will soon outnumber fixed-line ones; and the rise of the Internet. In all three areas, the region is already setting the pace, notably in the move towards converged regulators, covering both the telecommunications and the Information Technology sectors, and in the development of advanced mobile services. In Hongkong SAR, we have seen the world's first example of an incumbent telephone company being acquired by an Internet start-up. It will not be the last.
The last decade of the 20th Century contained the seeds of the 21st Century. In the 1990s, the Asia-Pacific region emerged as the economic powerhouse of the coming millennium. The populations of the economies that circle the Pacific Ocean are younger, more dynamic and more entrepreneurial than those that surround the Atlantic Ocean. History, economics and demography are on their side.
By the end of the current decade, the Asia-Pacific region will represent close to half of the total world market for telecommunications. Countries that currently have a teledensity (telephone lines per 100 inhabitants) in the range of 5 to 10 (such as China or Thailand) will have a teledensity over 30 by 2010, and those that are currently in the 1 to 5 range (such as India or Viet Nam) will have a teledensity above 15. In all of those countries, ownership of mobiles will exceed that of fixed-lines, which means that a majority of families in those countries will have access to telecommunications in some form or other. The simple demographics of the Asia-Pacific region dictate that no company involved in the business can afford not to be interested in the region.
Figure 1: The changing balance of power
Regional shares of fixed telephone lines, worldwide, on 1st January 1990, 2000 and (forecast) 2010
Source: ITU World Telecommunication Indicators Database and ITU forecasts.
Back to "Asia-Pacific Telecom Indicators 2000" home page