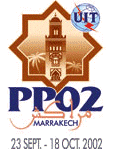 The 16th Plenipotentiary Conference held in Marrakesh from 23 September to 18 October was opened by the Prime Minister of Morocco, H.E. Abderrahamane El Youssoufi.
The Conference, attended by 1 859 participants from 158 countries (1 709 delegates and 150 representatives from 27 organizations), set the Union's general policies, adopted a four-year Strategic Plan and related Financial Plan, addressed a number of outstanding issues concerning the reform of the organization started in 1992 with the restructuring of the organization and elected the top management of the Union, the members of the Radio Regulations Board and the Member States to serve on the ITU Council.
The Conference also created a number of ITU Council Groups to pursue the work agreed at the Conference and set up a Group of Member States entrusted with the task of reviewing therelevant provisions of the basic texts of the Union concerningobservers.