Biographies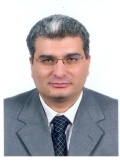 Mr. Hossam Allam, Head, Information and Communication Technologies for Development, Centre for Environment and Development for the Arab Region & Europe (CEDARE)

Dr. Hossam Allam is the Regional Programme Manager of Strategic Concerns Programme at the Centre for Environment and Development for the Arab Region and Europe (CEDARE), international organization based in Egypt. His current work focuses on E-learning, E-waste, E-environment, and ICT and Climate Change themes.

He has been extensively involved in the capacity building of environmental information systems within the Arab and African countries and delivering the first Arabic E-learning Programme for environmental professionals. He has initiated CEDARE E-learning programme that provides multi-lingual courses for different environmental related courses. Dr. Allam holds a Ph.D. in Computing from University of Plymouth, UK and MSc. in Computer and Information Science from University of New Haven, USA.

He has been involved in projects on national and regional levels. He seeks to fulfill the vision of "environment for Development" by utilizing ICT to manage natural resources and enhance human resources capacities to manage such valuable resources wisely and economically. He is also the regional focal point for Middle East and North Africa for the StEP initiative. Dr. Allam has been responsible for the initiation of the E-waste management Forum in cooperation with UNEP/ROWA. He is also responsible for the bi-annual study on E-waste management practices in the Arab countries.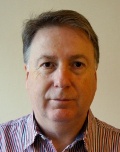 Jeff Bormann, Datec Technologies Limited

Jeff Borrman is the Director of the Business Development Team for inbound material plus environmental issues including WEEE, EWC & OECD directives etc. for Datec.

Jeff has been working in the electronics recycling industry for 31 years and has extensive experience in refining, analytical, process and separation of materials, reuse, trans-boundary shipment of material and commercial enterprise.

Derick Simiyu Khamali, Licensing Compliance and Standards, Kenya

Derick is a Compliance and Enforcement Engineer at the Communications Commission of Kenya - CCK. CCK is a regulatory authority in charge of the Communications subsector in Kenya. He has over 8 years experience in Project Design, Monitoring, Evaluation and Reporting on various subjects in the Telecommunications sector. At CCK, he is the lead person on matters of Environmental Evaluation on EMF/NIR exposure and Mitigation measures. He is also the lead person in Monitoring and Assessment of Quality of Service performance for telecommunication services. He is a researcher on New and Emerging Technologies within the Research team at the CCK. His leadership responsibilities include production and management of the Inspection and Monitoring program annually, verification and resolution of customer complaints on EMF exposure and quality of service.




Ruediger Kuehr, Head of the UNU Institute for Sustainability and Peace (UNU-ISP)

Ruediger Kuehr is Head of the UNU Institute for Sustainability and Peace (UNU-ISP) SCYCLE, the only ISP Operating Unit outside of Japan, is focusing its work and activities on sustainable production, consumption and disposal since January 2010. Ruediger also functions as Executive Secretary of the Solving the E-Waste Problem (StEP) Initiative which aims to initiate and develops just and environmentally safe solutions to the e-waste problem through analysis, planning and pilot-projects in joint cooperation with industry, governments, academia and NGOs.

From 1999 to 2009 he served as Head of the UNU Zero Emissions Forum (ZEF) – European Focal Point and from 2000 to 2002 he was Secretary to the Alliance for Global Eco-Structuring (AGES) under UNEP's Cleaner Production Network.

Ruediger Kuehr has co-authored and co-edited several books, studies and proceedings, including "E-waste: From Recycling to Resources" (2010), "2008 Review of Directive 2002/96/EC on waste electrical and electronic equipment (WEEE)" (2007), "Computers and the Environment: Understanding and Managing their Impacts" (2004), whose research results have received acclaimed attention worldwide. He also publishes and lectures on, inter alia, environmental technology transfer, transnational environmental policies, strategic sustainable development and development cooperation.

A political and social scientist by education with a PhD (Dr. rer. pol.) from the University of Osnabrück (Germany) and a M.A. (Magister Artium) from the University of Münster, (Germany), and additional post-graduate studies in Tokyo (Japan) he served as Senior R & D Specialist with The Natural Step in Sweden and as a freelance policy-consultant to various national governments, international organizations and companies. He was a visiting fellow to the Free University of Berlin (Germany) and the Hitotsubashi University (Japan) and a Research Associate to the Japan Research Centre of the University of Osnabrück (Germany).

Ruediger Kuehr is a member of a number of national and international Steering and Expert Committees and regular reviewer for half a dozen scientific journals.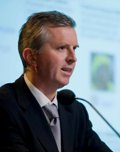 Andrew Morton, Programme Manager, Post Conflict and Disaster Management Branch, UNEP

Andrew Morton currently works for the Post Conflict and Disaster Management Branch of the United Nations Environment Programme. He is part of a team delivering practical action projects on environmental and sustainable development issues for fragile states and conflict regions, including DR Congo, Sudan, Haiti, Afghanistan, Sierra Leone and Delta state, Nigeria. His recent travels include extensive field assessment work in the Democratic Republic of Congo, including visiting mining sites in conflict zones in eastern DRC.

Prior to joining UNEP, Mr. Morton worked for Shell Petroleum and a number of environmental and engineering consultancies. His early career included mine labouring in an underground gold mine in Australia, prospecting in Zimbabwe and military service.
Sophia Pickles, Conflict Resources Campaigner, Global Witness

Sophia Pickles works on Global Witness' conflict minerals campaign, focusing on eastern Democratic Republic of Congo and the wider Great Lakes region of central Africa. She has carried out extensive investigations into armed group control over eastern DRC's minerals trade. Sophia's work includes undertaking high level advocacy with governments, industry and NGOs in the region and globally to develop supply chain due diligence standards for companies buying these minerals.

Sophia has worked in and on DR Congo since 2005. Between 2006 and 2008 she lived in Manono, in Congo's Katanga province. More recently, Sophia coordinated an All Party Parliamentary Group focused on the Great Lakes region in the UK parliament, where the conflict minerals trade was a key focus of her role. She has worked with Global Witness since August 2011.



Sunita Purushottam, Principal Consultant, Infosys

Sunita Purushottam is a Principal Consultant in the sustainability practice in Infosys. She has over 13 years of experience as an environmental and sustainability consultant specializing in Carbon, and e-Waste management to name a few areas of her work. Worked extensively in the field of air emissions (including GHG) in UK and India. She is also a fellow of the Royal Meteorological Society London with keen understanding of Climate Change. She is a CSA America certified GHG emission quantifier. Active contributor to wide variety of forums like GRI, GIZ, CDP, DESC - India, Nasscom - India and several other bodies.

Broad spectrum of sustainability and environmental consultancy experience in Environmental Impact Assessment, GHG Emissions Inventory and Carbon Offsets, Air Quality Dispersion Modeling, Solid waste management. Her current interest in the supply chain emission management stems from her involvement in the Infosys Supply Chain Management Strategy.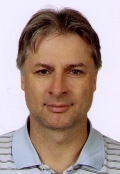 Mathias Schluep, Project Manager, Laboratory for Technology and Society, Materials Science and Technology (EMPA), Switzerland

Mathias Schluep is a programme manager and senior scientist at the Technology and Society Lab at Empa in Switzerland, a research institution belonging to the Swiss Federal Institute of Technology (ETH) domain. He is leading Empa's research related to e-waste management in the broader context of secondary raw materials. Mathias is responsible for several cooperation projects with developing countries in e-waste management in Africa, Asia and Latin America. His special focus is in Africa, where he was implementing various e-waste projects for the Swiss States Secretariat of Economic Affairs (SECO), Hewlett Packard, Microsoft, UNIDO, UNEP, the Secretariat of the Basel Convention and the European Union.

Before that he worked in the private sector in the field of environmental and general business consultancy at national and international levels for several years. He received his MSc in Environmental Engineering and his PhD in natural sciences from the Swiss Federal Institute of Technology in Zurich, Switzerland (ETH).

John Smiciklas, ITU Consultant

John Smiciklas is currently a Principal with MJRD Assessment Inc based in Oakville, Canada. MJRD Assessment provides consulting services related to sustainability, corporate responsibility, quality, environmental and health and safety management to a global client base. John has over 15 years' experience in sustainability / corporate responsibility and previous roles have included Director, Corporate Responsibility at Research In Motion; Manager, Sustainable Business Solutions at PricewaterhouseCoopers and Lead Consultant at KPMG.
Daniela Torres, Global Head of Climate Change Office, Telefonica

Daniela is the Global Manager of Green ICT & Environment and the permanent Head of the Climate Change and Energy Efficiency Office of Telefónica, in which her main role is the implementation of the corporate strategy of environment, climate change, energy efficiency and Green ICTs.

She has an Environmental Engineering background, with a Master of Science in Sustainable Energy Development from the University of Calgary of Canada. She worked as an environmental expert for the Latin-American Energy Organization (OLADE) and as an environmental advisor in the Ministry of Energy and Mines of Ecuador. From 2006 to 2008 she was also Professor of Environmental Sanitation at the SEK University of Ecuador.

Daniela was responsible for the Environmental Department for Telefónica Movistar Ecuador since 2006 when she was transferred to Telefónica Corporate Office in Madrid in 2008. Since then, Daniela represents the Company in the different external working groups on Green ICTs, environment and Climate Change globally and especially is focused on the activities of the ITU-T Study Group No. 5.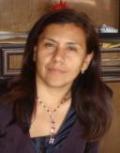 Sonia Valdivia, Sustainable Consumption and Production Branch, UNEP DTIE

Sonia Valdivia works since 2005 at the Secretariat of the UNEP/SETAC Life Cycle Initiative at the UNEP Division of Technology, Industry and Economics. She is a PhD graduated in environmental waste management and policies at the Technical University of Karlsruhe and has worked for organizations such as UNITAR (United Nations Institute for Training and Research), NACEC (North American Center for Environmental Cooperation), INE (Mexican Institute of Ecology) and as a GIZ coordinator of the Pan-American Network for Environmental Waste Management. She is author of two books on environmental management in the building sector and co-author of the UNEP/SETAC "Guidelines for Social Life Cycle Assessment", "UNEP/SETAC Life Cycle Management - How business uses it to decrease footprint, create opportunities and make value chains more sustainable" and the UNEP publication "Towards Life Cycle Sustainability Assessment". She believes that life cycle thinking is key for strategic decision making at companies including the supply chain management, organizational and national but also at individual levels.
Mr. Ahmed Zeddam, Chairman of ITU-T Study Group 5

Ahmed ZEDDAM received a PhD in electromagnetics from the University of Lille. From 1979 to 1982, he was an assistant Professor of electronics at Lille I University. Since 1982, he has been employed at the Research and Development Division of France Telecom in Lannion where he is head of a Research and Development Unit dealing with Electromagnetic Compatibility. Dr Zeddam is the author and co-author of about 100 scientific papers, published in reviewed journals and international conferences. He participated in the production of books related to EMC, including a reference book published in 2007.

He is also member of several Technical Committees of international standardisation bodies dealing with Electromagnetic Compatibility (ITU-T, IEC, CENELEC). He is currently Chairman of Study Group 5 of ITU-T and he is involved in the Commission E "Electromagnetic Noise and Interference" of the International Union of Radio Science (URSI). Dr Zeddam is also member of many scientific committees of national and international symposia on EMC.