<- Back to the e-Government Page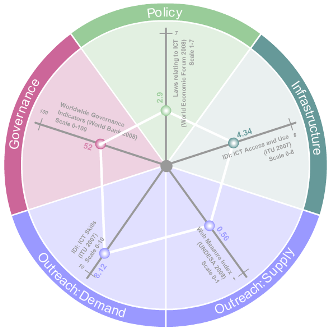 The "e-Government Readiness Quick-check Tool" is a hands-on IT-tool that assembles data from six recognised indices and a pragmatic choice of indicators discussed in the framework available at this link.
The "e-Government Quick-check Tool" represents the status of the e-government environment in single countries and country groups using as a proxy data on five relevant indicators and indices: (1) ICT skills and (2) ICT access and use indicators, collected in ITU's "ICT Development Index"; (3) indicators on ICT related laws published by the World Economic Forum; (4) "Worldwide Governance Indicators", gathered by the World Bank; and (5) web-based public services indicators, published by UNDESA as a sub-index of its "Web Measure Index".
The tool provides a graphical illustration of a country's readiness status on four dimensions of the e-government environment: Infrastructure, policy, governance and outreach.
Further, the Quick-check tool allows users also to display simultaneous graphs to compare one country's scores to those of another, of its peer groups –as defined in the World Bank's income groups (low, lower middle, upper middle and high income economies), based on the distribution of gross domestic product (GDP) per capita-, as well as to those of an ITU world regions (Africa, the Americas, Arab States, Asia & Pacific, Europe and CIS countries).