<- Back to the e-Environment Page
The EERI is a composite index based on a select number of published primary indicators related to the environment and ICT development levels. The EERI is a relative measure of the potential contributions both positive and negative that ICTs make to:
GHG emission

Energy use and quality

Waste reduction in general and the reduction and eventual elimination of toxic waste in particular

The conservation of the environment and of natural resources.
A full description of the EERI and its methodology is in the e-Envrionment toolkit.
The criteria for the 26 selected EERI primary indicators were established with the objective of enabling the EERI assessment of a given country in a manner that will result in a meaningful interpretation that can be used currently and going forward. The location of the raw data, the weighting for each indicator and the tabulated outcome have been structured in an excel spreadsheet that is populated with the available primary indicators.
The EERI takes these raw indicators and presents values normalized between zero and 10 for the following categories:
Normalized ICT Summary Indicator
Application

e-Environment

Energy Quality

Human Capacity

Infrastructure
Normalized Environmental Summary Indicator
The resulting composite EERI is then calculated by weighting each of these categories. Since the primary indicators are widely available over a number of years, the EERI could be used to provide trend analysis over time. In addition, since the EERI shows both the consolidated value as well as normalized categories, it can be used to identify sectors that are either improving or degrading within the EERI.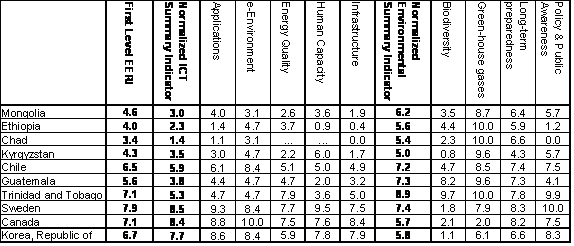 EERI calculation for a sample of countries
Comparisons between countries show that that there are variations between the level of economic development in a country, the status of the environment and the usage and availability of ICTs. The EERI can be used within a country or as a comparison between countries in directing policy around the potential positive and negative impacts of ICTs on the environment and the sectors that are most impacted by ICTs.
Interpretation could be performed at all three levels of the tiered indicators, in order to identify:
Country weaknesses or strengths

Specific areas that can be tackled to create gains in either the ICT or environment domains

Areas of specific interest that can be isolated and analyzed further
First level global EERI world map 2009 (for 132 countries where data is available)
The EERI is to be used along with other tools and resources outlined in the e-Environment Toolkit. Together these tools are designed to assist countries and organizations assess the potential that ICTs have to contribute to abating C emissions and to reduce energy consumption.
The EERI will be enhanced and improved over time as more experience and further knowledge of its application are acquired.