ICT and low-carbon economy
EverComm / Gridcure / KWIQLY / Novameat / Orange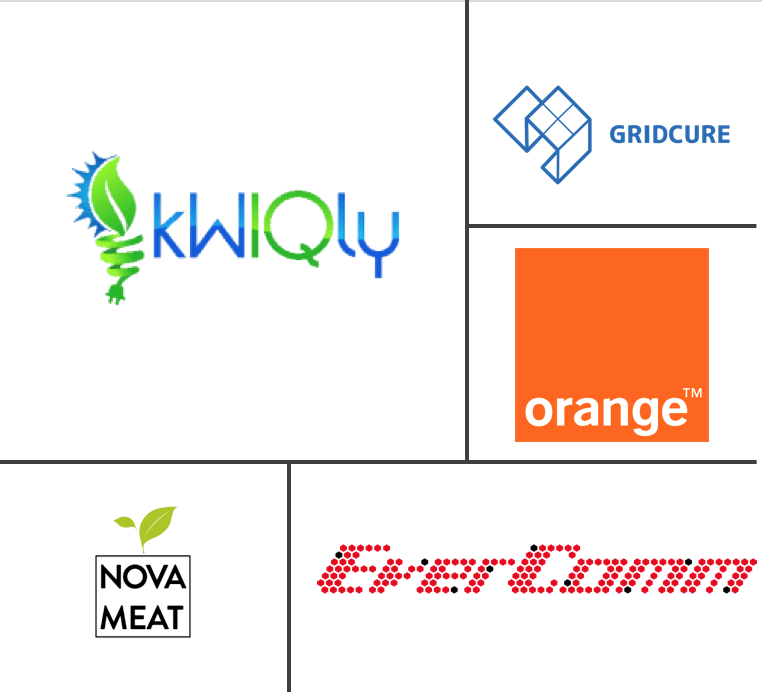 Supporting Effective Carbon Emission Mitigation through ICT - Opportunities & Barriers
This panel presentation and subsequent Q&A session will :
Briefly explore current context of ICT as it impacts low carbon economic objectives from the personal perspective of well-informed panel members. It is hoped that the exchange will stimulate thought debate, action and awareness of opportunity amongst attendees. At the end of the session a few minutes will be reserved for open discussions and spontaneous networking so as not to lose such opportunities..
The concrete objectives are as follows:
To illustrate novel ITC use cases in the low-carbon economy context from diverse domain perspectives
to highlight replicable opportunities where ICT is delivering towards low-carbon goals
to highlight impediments to broader use and consider solutions
To discuss interactively with the panel several Q&A and conclude where possible:
how different stakeholders from private, civil sectors etc might contribute to, encourage , or enable progress
where forums are needed to enhance exchange & collaboration of experience and awareness of opportunity
where new protocols and standards could reduce waste.
Given the extremely broad scope of ICT, the rate of change and its applicability to almost all human endeavour. The panel presentations will be illustrative from specific domains as follows: Replacement Food Science, Energy Analytics, Communications Platforms.
The panel discussion will invite a number of questions from the audience - which may relate to areas presented, or be with respect to wider concerns & opportunities (eg driver-less vehicles, block-chain and distributed markets, AI etc etc). Naturally the panel is not expert on all areas - but insofar as is possible any clear recommendations, consensus or suggestions arise they will be recorded and summarised to feed back into the wider WSIS infrastructure.

Programme: ICT and low carbon economy (Thematic Workshop)
Schedule : 11.00 - 13:00, Monday, 8 April 2019
Location: (WSIS) Room L1.
Agenda
11:00 Welcoming remarks by James Ferguson
11:05 Emily Basileo - A high-level intro to Energy ICT: why it's important, some of its complexities and what we can ultimately achieve
11:20 Jean-Manuel Canet - The ITU-T Study Group 5, its achievements and current actions related to climate change, Actions performed by the Orange Group in order to cut GHG emissions
11:35 Ted Chen - Building a self-sustainable zero-carbon economy through better data policy, e-governance strategy and digital transformation.

11:50 James Ferguson - Relationships between technology and waste - automated diagnosis in the built environment and how ICT helps
12:05 Guiseppe Scionti - The future of Food: Plant-based meat analogues, Food 3D printing, ICT to improve the food system.
12:20 Panel Discussion / Q&A
12:50 Wrap Up - Notes & Networking
13::00 Close for Lunch
Moderator
James Ferguson, CEO & Founder, kWIQly
---
Speakers/Panellists
Ms Emily Basileo, Head of Operations, GridCure
Mr Jean-Manuel Canet, Senior Manager, Sustainable Development, Orange Consulting
Mr Chiu-Hao Chen (Ted) , Chief Product Architect & Founder, EverComm
Mr James Ferguson, CEO & Founder, kWIQly
Mr Giuseppe Scionti, CEO & Founder, Novameat
Session's link to WSIS Action Lines
C1. The role of public governance authorities and all stakeholders in the promotion of ICTs for development

C2. Information and communication infrastructure

C3. Access to information and knowledge

C4. Capacity building

C5. Building confidence and security in the use of ICTs

C6. Enabling environment

C7. ICT Applications: E-government

C7. ICT Applications: E-business

C7. ICT Applications: E-environment

C7. ICT Applications: E-agriculture

C7. ICT Applications: E-science

C10. Ethical dimensions of the Information Society
C1. The role of public governance authorities and all stakeholders in the promotion of ICTs for development
Throughout the entire spectrum of energy use; from mitigation of fossil-fuel use, through effective generation and distribution, demand reduction and management, measurement, monitoring & communication - access to data, security, collaboration, regulation and market subvention and are key themes that support or impede adoption of technologies and are subject to governance and multi-stakeholder relationships.
C2. Information and communication infrastructure
Managing demand for energy, matching transmitted supply to demand and all aspects of public, domestic, commercial and industrial activity, accommodation and transport require Information and communication infrastructure.
C3. Access to information and knowledge
Access to Information and knowledge are themes central to all ICT activity.
C4. Capacity building
All aspects of more effective or efficient resource use represent opportunity,
whether by means of alternatives, better conversion or distribution of consumables or,
as a result of greater awareness, large -scale diagnosis, higher resolution of data or,
being based on faster communication and dissemination of requirements and action.
C5. Building confidence and security in the use of ICTs
Novel food production, potentially intrusive monitoring, fears regarding health effects of EM-frequency communications and data security and privacy all require education, informative debate on benefits and balance through responsible and sufficiently open governance models.
C6. Enabling environment
Opportunity awareness, tools and technologies, the diagnosis and communication of need and relevant robust recommendations for action all support local action in any domain.
C7. ICT Applications: E-environment
Low Carbon economy has this as a central tenet. Communication technologies increasingly mitigate the need for carbon intensive transport.
All forms of data analytics, particularly those with a focus on efficiency, help reduce environmental impacts and so reduce degradation.
C7. ICT Applications: E-agriculture
Novameat, a 3D printed substitute, seeks to demonstrate that novel technologies have their place in provision of secure and sustainable food production
---
Session's link to Sustainable Development Process
Goal 1: End poverty in all its forms everywhere

Goal 2: End hunger, achieve food security and improved nutrition and promote sustainable agriculture

Goal 3: Ensure healthy lives and promote well-being for all

Goal 4: Ensure inclusive and equitable quality education and promote lifelong learning opportunities for all

Goal 5: Achieve gender equality and empower all women and girls

Goal 6: Ensure access to water and sanitation for all

Goal 7: Ensure access to affordable, reliable, sustainable and modern energy for all

Goal 8: Promote inclusive and sustainable economic growth, employment and decent work for all

Goal 9: Build resilient infrastructure, promote sustainable industrialization and foster innovation

Goal 10: Reduce inequality within and among countries

Goal 11: Make cities inclusive, safe, resilient and sustainable

Goal 12: Ensure sustainable consumption and production patterns

Goal 13: Take urgent action to combat climate change and its impacts

Goal 14: Conserve and sustainably use the oceans, seas and marine resources

Goal 15: Sustainably manage forests, combat desertification, halt and reverse land degradation, halt biodiversity loss

Goal 16: Promote just, peaceful and inclusive societies

Goal 17: Revitalize the global partnership for sustainable development
A global low-carbon-economy is the core issue regarding our response to and mitigation of climate change refer Goal 13.
Climate change affects habitation. Newly uninhabitable regions and resultant impoverishment drives refugee crises. Conflict over resources represent foreseeable results.
Anticipated and/or possible climate-change impacts represent in-extremis the ultimate failure of sustainable development goals in all forms.
Goals 1 and 2 are wholly incompatible with anticipated climate change
Goals 3, 6, 7, 10, 14, 15 depend largely or entirely on Goal 13.
Goal 13. requires goals 8, 9, 10, 11, 12
Goals 4, 5, 13, 16 and 17 are highly interdependent.
Goal 10 is a special case - The Gini coefficient represents income inequality which in turn drives unsustainable consumption patterns and in turn waste. Waste is inevitable given local and non-universal abundance.