The ITU Radiocommunication Bureau (BR) has been actively encouraging a closer involvement of academia, including research and communications development centers, in the ITU-R Sector activities.
Among these initiatives, it is worth mentioning the following past and ongoing activities:
Invited visits to Universities by BR Director and Deputy Director:

- University of Tokyo, Japan (2005)
- University of Campinas, Brazil (2008)
- UADE, B. Aires, Argentina (2008)
- PUC-RJ, Brazil (2009)


ITU Overview presentation at 'Universities Consultation Meeting' (2007)

Courses to Universities given by ITU-R Sector:

- Kazakh Academy of transport and communications (2009) by Vadim Nozdrin, Counsellor, BR/SGD on Electromagnetic Compatibility of satellite communication systems (under editing of L.Ya. Kantor and V.V. Nozdrin ISBN 978-5-904320-03-4)


Wireless World Research Forum (WWRF), (12-14 April 2010). Colin Langtry, Counsellor, BR/SGD.
The WWRF has over 140 members from five continents, representing all sectors of the mobile communications industry and the research community. The objective of the forum is to formulate visions on strategic future research directions in the wireless field, among industry and academia, and to generate, identify, and promote research areas and technical trends for mobile and wireless system technologies. The WWRF organizes funding for research and produces white papers which become available to non-members after 1 year. Many of the topics addressed are directly applicable to current studies within the ITU-R.


Academia participation in the ongoing evaluation process of IMT-Advanced (4G) radio transmission technologies:

- Telecom Centres of Excellence India (TCOE) - (contact details)
- Instituto de Tecnología (Argentina) Universities (UADE) - (contact details)
- Winner+: A European ITU-R Evaluation Group - (contact details)
The ITU Radiocommunication Bureau has been working with its sister organzations (ITU-T, ISO and IEC) within the framework of the World Standards Globalization (WSG) in order to raise awareness of international standardization activities. Standardization in general and International Standards in particular are of interest and can be promoted to academia from various standpoints. See: WSC Academia Week 2010 (5-9 July, 2010).
Finally, the forthcoming ITU Plenipotentiary Conference 2010 (PP-10 in Guadalajara) will address the possible creation of a special category of membership in the ITU-R and ITU-T Sectors for an 'Academia member'.
Fabio Leite,
Deputy-Director,
ITU Radicommunication Bureau
The SwissCube and satellite remote sensing principles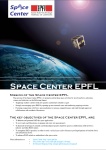 ITU Radiocommunication Bureau participated with a great pleasure in the successful launch and deployment of the first Swiss Cube satellite on the PSLV launch vehicle on Wednesday 21 September 2009 at 8:21. This is an important event (for Switzerland) and a tremendous achievement by the students and the Space Center EPFL!
After 4 years of hard work by the Space Center EPFL in cooperation with several other Swiss academic institutions, Federal authorities and Swiss space industry the Swisscube's first mission was not only a great success but there are further plans to continue with the development of next generation of more complex satellite systems.
The ITU Radiocommunication Bureau (BR) are very pleased to have have been able to assist in the project with the international recognition and recording of the SwissCube project in the ITU Master International Frequency Register (MIFR). The BR looks forward to future cooperation with the Space Center EPFL in the field of satellite communications, and welcome any further presentations of research activities in the field of radiocommunications, and particularly as regards new technologies such as space sensors and software defined radio.
"To build and operate a small cube satellite system is a complex engineering task and a challenge for students with little space technology experience – it was done extremely well – with a first satellite for Switzerland – I am pleased to let you know that the quality of your work was received (here at the ITU) by the good telemetry data received shortly after the launch – Bravo !"

Valery Timofeev,
Director,
ITU Radicommunication Bureau
For further articles and information: