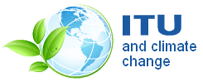 Between 1980 and 2005, over 7,000 natural disasters worldwide took the lives of more than 2 million people and produced economic losses estimated at over 1.2 trillion US dollars. Ninety per cent of these natural disasters, 72 per cent of casualties and 75 per cent of economic losses were caused by weather-, climate- and water-related hazards, such as droughts, floods, severe storms and tropical cyclones. For this reason, climate change monitoring and disaster prediction mechanisms are increasingly vital for our personal safety and economic wellbeing. At present, radio-based applications such as remote sensors provide the main source of information about the Earth's atmosphere and surface. In turn, this information is used for climate, weather and water monitoring, prediction and warnings, natural disasters risk reduction, support of disaster-relief operations and for planning preventive measures for adapting to and mitigating the negative effects of climate change.



For more than 130 years, there has been excellent collaboration and partnership between WMO and ITU. Whilst WMO focuses its efforts on meeting the needs for environmental information and the corresponding radio frequency spectrum resources, ITU, as international steward of the spectrum, through the Radiocommunication Sector (ITU-R) allocates the necessary radio frequencies to allow the interference-free operation of radio-based applications and radiocommunication systems (terrestrial and space) used for climate monitoring and prediction, weather forecasting and disaster early warning and detection.

WMO Meteorological Congresses always underline the crucial importance of radiofrequency (RF) bands for meteorological and related environmental operations and research, and for disaster risk reduction and appeal to the ITU to provide necessary frequency bands and ensure protection of frequency bands used by passive and active radio-based sensors, applications and systems employed for environmental observations.

Successive ITU World Radiocommunication Conferences (WRCs) have taken into account the needs of WMO to ensure the availability and protection of radio-frequency bands for observation tools such as radiosondes, weather and wind profiler radars and spaceborne infrared and microwave sounders.

Recognizing the vital importance of environmental monitoring, the last WRC-07 allocated additional spectrum for systems used for monitoring climate change. It also defined protection criteria for observation applications and systems. WRC-07 has also requested ITU-R Study Groups to carry out the studies related to the further development of observation systems and, in 2008, the ITU Radiocommunication Study Groups initiated studies and they are developing ITU-R Recommendations (voluntary standards) on advanced remote-sensing applications employed by terrestrial and space-based meteorological and Earth exploration-satellite systems and applications.