Visit the ITU-R Publications web site
ITU-R Publications constitute an essential reference source for all those wishing to remain abreast of the rapid and complex changes occurring in the world of international radiocommunications, such as government agencies, public and private telecommunication operators, manufacturers, scientific or industrial bodies, international organizations, consultancies, universities, technical institutions, etc.
Recent ITU-R Publications: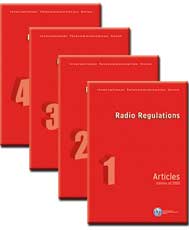 Radio Regulations, Edition of 2008
The Radio Regulations incorporates the decisions of the World Radiocommunication Conferences, including all Appendices, Resolutions, Recommendations and ITU-R Recommendations incorporated by reference.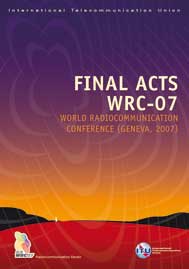 WRC-07 Final Acts
The Final Acts record the decisions taken at the World Radiocommunication Conference, 2007 (WRC-07). They include the new and revised provisions of the Radio Regulations and associated Appendices, as well as the new and revised Resolutions and Recommendations adopted by the Conference. Statements made by Member States at the time of signing the Final Acts are also included.