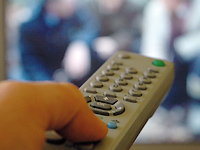 Sem Rox
Internet Protocol Television
A brief introduction and report on standardization activities
Internet Protocol television (IPTV) is thought by the majority of users to represent exclusively the delivery of television programmes over the Internet protocol (IP). The reasons for this are historic. It was in the mid-1990s that, for the first time, television programmes (in streaming mode) were delivered over the Internet protocol, resulting in the introduction of the term IPTV. It is a major application of next-generation networks (NGN), which are based on IP and provide extensive capabilities and opportunities for service providers, through the integration and convergence of services.
At present, the main driver for IPTV is video on demand (VoD), a service in which the consumer can select video content as and when desired, and control the timing by which the content is viewed (for example, the ability to start the viewing, pause, fast-forward or rewind). To provide VoD, service providers can envisage two models: centralized and distributed. In the centralized model, all content is stored in a central server. This model is mainly configured for small VoD service deployment. In the distributed architecture, more intelligent content distribution technology is required. Each of these architectures has its own advantages and disadvantages.
To provide IPTV services, audio and video codecs and encrypting devices are used. Examples of codecs used for VoD are MPEG-2 and MPEG-4. A cable, digital subscriber line (DSL), or fibre-optic Internet connection (all using modems or set-top boxes) is then used to provide IPTV services to the consumer.
Several standards development organizations (SDO) pursue activities on IPTV. However, no globally accepted standards were available to cover all aspects of an end-to-end solution — from provider to consumer — until ITU's Telecommunication Standardization Sector (ITU–T) started to seriously work on the topic. In April 2006, ITU–T initiated an IPTV Focus Group with the mandate "to coordinate and promote the development of global IPTV standards, taking into account the existing work of the ITU study groups as well as SDO, forums and consortia".
The first important task for the focus group was to come up with a globally acceptable definition for IPTV, in order to indicate its existing and future capabilities for an end-to-end solution. ITU–T defined IPTV as: "multimedia services, such as television, video, audio, text, graphics, and data, delivered over IP-based networks managed to provide the required level of quality of service (QoS), quality of end-user experience (QoE), security, interactivity and reliability."
| | |
| --- | --- |
| | The initial set of global standards for IPTV was published in April 2008 as proceedings of the IPTV Focus Group. The publication gives an overview of the group's activities and achievements, focusing on IPTV architecture and requirements; QoS and performance aspects; service security and content protection; IPTV network control; end systems and interoperability aspects, and middleware, application and content platforms. |
What is significant in this definition is the emphasis on the term "managed", which distinguishes IPTV from other services, such as free Internet television channels or "YouTube", where anyone can watch television programmes or upload and/or watch any video clip at will, any time, and regardless of quality. Specifications for IPTV that have been defined and prepared by the standardization bodies help operating companies, cable providers and the vendor communities in providing secure and cost-effective revenue generating services which are comparable to — or better than — what is in existence today.
The activities of the IPTV Focus Group ended in January 2008, at which time its documents were transferred to the appropriate study groups in ITU–T for the development of draft Recommendations. The ongoing work continues under the umbrella of the Internet Protocol Television Global Standards Initiative (IPTV-GSI), where working groups from several study groups meet at the same time and at the same location to facilitate interaction between them. Additionally, the IPTV-GSI meets more frequently than the study groups, thus expediting the completion of the standards.
IPTV architecture encompasses four distinct domains: content provider, which is the entity that owns or is licensed to sell content or content assets; service provider, who provides telecommunication services to consumers; network provider, which is the organization that maintains and operates the network components required for IPTV functionality, and finally the consumer, who is the end user of the products or services.
Taking into account pre-standard deployments and the emergence of NGN, ITU–T chose three IPTV functional architecture approaches that enable service providers to deliver IPTV services:
"Non-NGN IPTV functional architecture", which is based on existing network components and protocols or interfaces.
"NGN-based non-IMS IPTV functional architecture", which uses components of the NGN framework reference architecture to support the provision of IPTV services.
"NGN IMS-based IPTV functional architecture", which uses components of the NGN architecture, including the IMS component, to support the provision of IPTV services, in conjunction with other IMS services if required. (IMS stands for "IP multimedia subsystem," an architecture that carries IP multimedia to mobile devices.)
The IPTV architecture is access agnostic, meaning that access can be through fixed line, cable or wireless systems, for example. IPTV services can be provided to fixed or mobile devices.
Thus far, ITU–T has approved, consented or determined standards on IPTV functional architecture, requirements for the support of IPTV services, overview of IPTV terminal devices, high-level specification of metadata for IPTV, quality-of-experience requirements for IPTV services, and home networks supporting IPTV services. Activities are going full steam ahead to prepare and finalize standardization of aspects related to IPTV security, protocols, traffic management and middleware. It is expected that, by mid-2009, a full set of ITU–T Recommendations on IPTV will be available as the first set of global standards.