Email not displaying correctly? Click here to view online.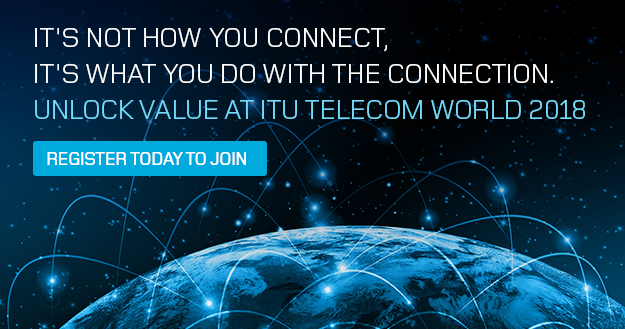 Want to connect with the top names from key industry players, tech SMEs and governments this September in Durban, South Africa? Showcase your organization or country's expertise and opportunities?
Then join us from 10-13 September at Durban ICC for ITU Telecom World 2018.
Get the full picture from top names
Hear and exchange perspectives on innovation for smarter digital development with tech experts:
Amani Abou-Zeid,
Commissioner for Infrastructure and Energy,
African Union
Siyabonga Cwele,
Minister of Telecommunications and Postal Services,
South Africa
Sipho Maseko,
CEO, Telkom SA
Rob Shuter,
CEO & President,
MTN Management Services
Mohamed Shameel Aziz Joosub,
CEO, Vodacom SA
German Darío Arias Pimienta,
Comisión de Regulación de Comunicaciones (CRC),
Colombia
Key topics on the agenda include moving beyond connectivity, digital literacy and education, regulation to enable innovation, AI and digital finance, leapfrogging to 5G and smart cities.
Hurry! Last remaining exhibition & sponsorship options!
Showfloor space is selling fast, but we still have a few remaining options. Seize the opportunity to showcase your innovations, project and solutions, and find new partnerships and leads. Take advantage of the global visibility our event allows, with one of our sponsorships or advertising opportunities. A great way to put your country, organisation, company or SME at the centre of a truly global stage.
Gain global recognition with ITU Telecom World Awards
Enjoy visibility on an international stage plus the prestige of a major UN award. Our ITU Telecom World Awards recognize the most innovative, exciting SMEs and corporate initiatives with social impact -- and are open to all sponsors, exhibitors, and tech SMEs present at ITU Telecom World 2018. Don't just take our word for it- find out how our Award has helped past winners on their way to greater success.
Networking
Our uniquely influential audience will provide you a great opportunity to meet global influencers from emerging and developed markets, from governments, SMEs and the whole spectrum of ICT players. Share ideas, build and announce new global partnerships, network with intent with our targeted programme of events, activities and tools. These include a targeted business matchmaking service, networking lunches and dinners and our popular Event App, which allows you to plan your week, network and interact with other participants before, during and after the event!
To unsubscribe from future ITU Telecom emails, click here