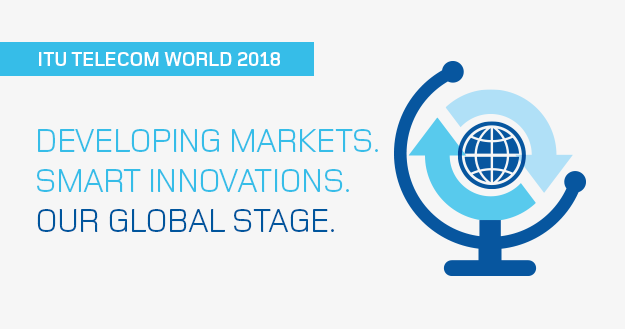 Looking for the right global platform to highlight the tech and investment potential of your organization or country? To engage and share knowledge with policymakers, regulators, investors and corporates?
Then join us by exhibiting at ITU Telecom World 2018. We are the global event for governments, corporates and SMEs, organized by ITU, the United Nations specialized agency for ICTs. ITU Telecom World 2018 takes place from 10-13 September at Durban ICC, South Africa, with a focus on innovation for a smarter world.
Key benefits of exhibiting at ITU Telecom World 2018
Highlight your innovative tech, services, projects and investment potential to an influential audience on a global stage
Access and network with decision-takers and policy-makers from emerging and developed markets, including a dedicated business matchmaking programme
Explore partnership opportunities and business deals, generate high-quality leads and help grow and diversify your business
Gain insight and understanding, share best practices and experiences on the transformation of the ICT industry
What sets us apart?
ITU Telecom World events are the only tech event of their kind to be fully inclusive - both in terms of the technologies on show and their global reach. You'll find a strong presence from emerging and developing countries alike, all looking to tackle key ICT-related challenges and highlight growth & investment opportunities.
Because we're a part of the UN and not-for-profit, we attract a highly influential audience including heads of UN agencies, C-level execs, ministers, regulators, founders of tech SMEs, innovators and global media.
You can read more in our Exhibition and Sponsorship brochures. And don't forget that by exhibiting or sponsoring you'll also be eligible to enter our internationally-acclaimed Awards programme, recognizing initiatives using ICTs innovatively for social good. Winning entries will be selected by an expert jury onsite. A unique opportunity to gain United Nations recognition!