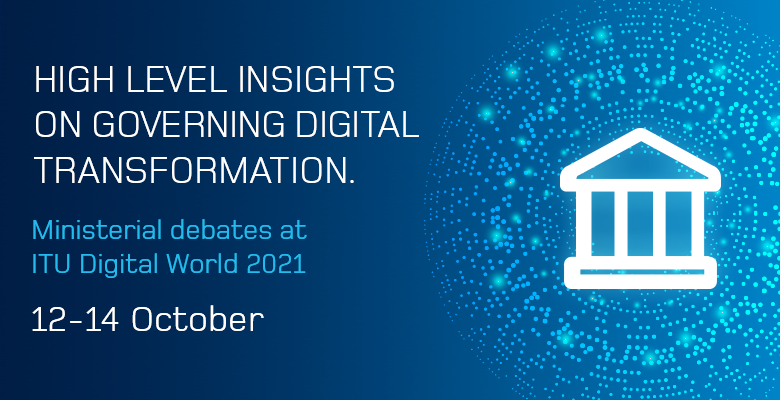 Join us online at digital-world.itu.int for the livestream of the formal ITU Digital World 2021 Opening Ceremony on 12 October in Ha Noi, Viet Nam, in the presence of H.E. Pham Minh Chính, Prime Minister of Viet Nam, H.E. Nguyen Manh Hung, Minister of Information and Communications of Viet Nam and ITU Secretary-General Houlin Zhao. Celebrate 50 years of ITU Telecom events, the opening of the Virtual Exhibition and the launch of the high-level Ministerial Roundtables! Opening Ceremony begins at 14:00 CEST, 19:00 in Ha Noi.
Ministerial Roundtable - Cutting the cost: can affordable access accelerate digital transformation?
12 October 15:00-16:30 (Geneva time)
How can cutting costs of devices, plans and infrastructure help accelerate digital transformation – and what role can governments play by incentivising industry or subsidising consumers? What innovative policy, regulatory or public private cooperative models can help reduce costs for end users?
Ministerial Roundtable - Boosting infrastructure: rethinking the role of government in digital transformation
13 October 09:00-10:30 (Geneva time) / 15:00-16:30 (Geneva time)
Explore how broadband infrastructure deployment can be accelerated and optimized, examining current best practices to help countries learn from each other – and understand the pitfalls to be avoided.
Ministerial Roundtable - Digitalizing daily life: government services and content driving digital transformation
14 October 09:00-10:30 (Geneva time) / 15:00-16:30 (Geneva time)
How has the pandemic affected the take up of digital services and content? What is the role of government services in driving digital transformation and how can government, industry and civic organizations mitigate digital inequality and ensure no citizen is left behind?

Virtual Exhibition
The Virtual Exhibition running from 12 October to 12 November, organized by event co-host the Government of Viet Nam, will showcase companies, countries, projects and products online. Discover the national ICT strategies, projects and initiatives of countries from around the world - and connect with major tech players in the ASEAN region and beyond through industry stands, presentations and networking events. Register now to visit or contact us to exhibit!

Networking Online
Connect with speakers and fellow participants in an informal online networking session immediately after each Ministerial Roundtable and Forum debate. Click on the link in the chat or in your session reminder mail, create your avatar and join the conversation – you can video chat on a one-to-one basis or in groups, visit ITU stands – and enjoy our 50th anniversary celebrations!

ITU Digital World Awards
Be sure to tune in and watch SMEs shortlisted for the ITU Digital World 2021 Awards pitching their innovative solutions with real social impact throughout November, with the Awards Ceremony marking the close of the event on 01 December. Keep an eye out for more expert-led, free online SME Masterclasses coming soon! If you are an expert in one of our five awards categories, why not consider joining us as a jury member?