Biographies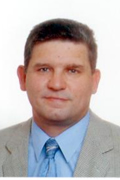 Marco Carugi, ITU Expert, Senior Advisor - Nortel, Carrier Networks


• Marco began his career as telecommunication system engineer in Solvay, an international chemical group, and then worked for 8 years in France Telecom R&D as Research Engineer in Broadband Data Services and Network Technologies, participating in international FT projects as technical expert in IP/MPLS and VPNs.
• He joined Nortel in 2002 as Senior Advisor inside the CTO organization and his current focus within Nortel Carrier Networks division is on Next Generation Networks and emerging telecommunication enabled services and applications, promoting Nortel strategic interests in international SDOs.
• Involved in standardization since 1996, he has actively participated in ITU-T NGN related efforts since their beginning and also in the NGN related ETSI TISPAN technical body.
• At WTSA 2008 he has been appointed SG13 vice-chairman for 2009-2012 study period and he is currently acting as Rapporteur for Question 3/13 (Requirements and implementation scenarios for emerging services and capabilities in an evolving NGN) and Working Party 2 co-chair within SG13.
• Among his past management positions in standardization, he co-chaired the Services and Requirements group in the ITU-T NGN Focus Group, served on the Optical Internetworking Forum Board of Directors, chaired the IETF Provider Provisioned VPN Working Group and acted as, respectively, Q.11/13 Rapporteur during 2001-2004 and Q.2/13 Rapporteur during 2005-2008.
• Marco has authored a number of papers, IETF drafts and RFCs, ITU-T Recommendations and other contributions to SDOs.
• He holds Electronic Engineering degree in Telecommunications from Pisa University (Pisa, Italy), M.S. in Engineering and Management of Telecommunication Networks from National Institute of Telecommunications (Evry, France), Master in International Business Development from ESSEC Business School (Paris).


Chae Sub Lee, ETRI

Chae Sub LEE has been working in the telecoms standardisation field for over 20 years. He has actively involved in regional standards in ASTAP, APT, TTA and CJK in the area of network standards. He has been involved in ITU-T standards development for the ISDN, GII, IP-based networks and NGN. He was mainly involved in Study Group XVIII (currently SG13) as a rapporteur on Architecture and Interworking areas. He is a vice-chairman of ITU-T Study Group 13 and Chairman of WP2/13 on Architectural study. He also shared his role as Chairman of NGN Focus Group from June 2004 till November 2005.
After a career of twenty years with KT as a senior researching engineer, he built a venture company called HiSPOT S.A. And he has been an invited researching staff to ETRI on International Standard activities.